5x110 Wheels
Are you looking for a new set of wheels? We can help you ramp up your ride with a brand new set of custom 5x110 bolt pattern wheels!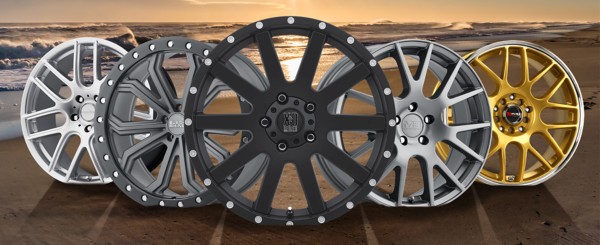 When your vehicle needs a little facelift, a new set of 5x110 rims is the easiest, most enjoyable and budget friendly way to do it! And when you shop with us, you know you're getting the best quality product and service at the best possible price.
We carry only the most in demand brands like Black Rhino, Drag, FK Ethos and so many more!
What cars have 5x110 rims?
You might be wondering what vehicles use 5x110 rims?
The Pontiac G6, Chrysler 200, Chevy Cobalt and Malibu and the Jeep Cherokee are pretty common examples of vehicles that use the 5x110 bolt pattern. 5-bolt wheels are typically on midsize vehicles on up. That's why you'll often find this bolt pattern in larger sizes, like 17 and 18- inch diameter wheels (but they do come in other sizes too).
The great thing about this is that because 5x110 rims are so common, chances are we have them stocked!
The Crux by MB Wheels is a classy option that's perfect for your coupe, sedan or crossover. It comes in a 17 inch 5x110 wheel option and features a glossy matte black or gunmetal finish.
If you need a wider range of sizes and want a more versatile design, the Drag DR34 is the way to go. It combines structural integrity with lightweight materials for looks and performance increases.
The Vision Cross is another classic mesh style wheel available in a stunning matte black or hyper silver finishes and will enhance your vehicle's aesthetics and pair up nicely with black plastic or chrome trim pieces.
Want to make sure you find the right wheels for your vehicle? Check out our vehicle specific fitment calculator tool!
5x110 wheel and tire packages
Maximize and complete your 5x110 wheel upgrade with a new set of tires! You can design your own 5x110 wheel and tire package easily, while maximizing functionality and convenience.
Since we have the largest inventory of aftermarket tires and wheels out there, we know it can be overwhelming. Don't worry! We've created the tools you need to quickly help you find what you're looking for.
Use our wheel visualizer to see how the wheels you chose will look on your vehicle, down to the year, make, model and even OE paint color! After, check out Treadwell to match a great set of tires to complete your 5x110 wheel and tire package.
If you still need help, just give us a call and set up an appointment at your nearest store. We can special order any tire or wheel out there and match any advertised price!