5x112 wheels
From the pinnacle of German-engineered luxury to the family wagon, you can upgrade almost any ride with 5x112 wheels.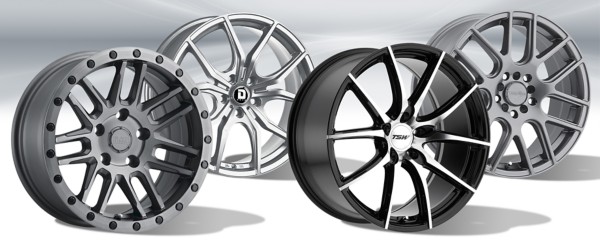 There's a reason we have the largest inventory of aftermarket and OE replacement wheels in the industry, including many 5x112 rim options. It's because we're all about style and performance mods that don't break the bank! 
And there are hundreds of 5x112 wheel options out there, including Black Rhino Wheels, Fifteen52, Drag Wheels, Enkei Wheels, TSW Wheels, Motegi Racing Wheels and Vision Wheels, just to name a few.

A new set of wheels is one of the best ways to make your stand out, and even gain some performance improvements. But the best part is, you don't have to shell out serious coin when you buy from us! 

(Just check out our wheel catalog to see what we mean!)

What cars use 5x112 wheels?

Wondering what cars fit the 5x112 wheel bolt pattern? This size isn't as common as 6x4.5 wheels or 5x4.5 wheels, but it's found on many models of Audi, Volkswagen, Mercedes and even Maybach—for all you high-rollers looking to add a little extra drip to your luxury sedan.

And with our wide inventory of rims, we have a range of the most popular 5x112 sizes available. We have 18-inch 5x112 wheels, 19-inch 5x112 wheels and even 17-inch 5x112 wheels. Whatever size rims you're looking for, we can set you up.

5x112 wheel and tire package

If you're in need of fresh rubber to wrap around your new 5x112 rims, you can make your wheel upgrade a double up with ease by custom designing your own 5x112 wheel and tire package.

Since shopping for wheels and tires online can be overwhelming, we do our best to make it easy, fun and affordable. And the best part is: you don't have to leave the comfort of your home to figure out which 5x112 wheel is going to look best on your ride.

With our wheel visualizer, you can easily find the right 5x112 wheels for you on down to the wheel style and finish. Then, you can use Treadwell to find the perfect set of tires to match with your new 5x112 rims.

And if you don't see the 5x112 wheels you're looking for, don't give up just yet!

Our stores are staffed by wheel experts (and serious automotive enthusiasts). We have years of experience working on everything from luxury German sports cars to premium SUVs and passenger vehicles. We can help you find and special order just about any wheel out there with a price-match guarantee, regardless of how rare the fitment or how unique the finish. Just give us a call and we'll get you sorted.

Whenever you're ready to pull the trigger on a new set of 5x112 wheels for your ride, just schedule an appointment at your nearest store and we'll get you taken care of.