5x120 wheels
From high-powered, luxury sedans to rugged-yet-premium SUVs, a new set of 5x120 wheels may be the upgrade for your ride.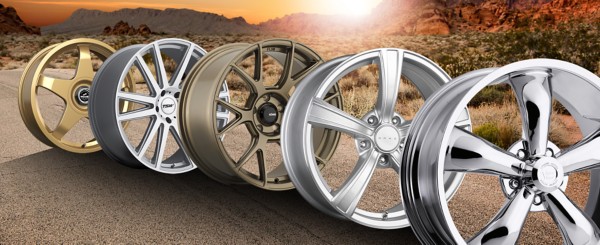 What cars have a 5x120 wheel bolt pattern?
When it comes to 5x120 wheels, we hear this question pretty regularly.

The answer is: you can find 5x120 rims on a pretty wide range of vehicles, including high-end, high-powered sedans, luxury SUVs and even minivans.

Whether you're upgrading your BMW, Audi, Camaro, Land Rover or even your Honda Odyssey, then you may be searching for 5x120 rims.

We've got 5x120 offerings from some of the best and most in-demand wheel manufacturers out there. When it comes to 5x120 rims, you're going to be in great hands with American Racing, Black Rhino, Drag Wheels, Fifteen52, Konig, TSW and Vision Wheels.

If you've got your eye on a set of 5x120 Drag wheels, we've got some killer options for you. With its unique crossover split spoke design and lightweight build, the Drag Wheels DR-77 is a safe bet to give your ride a head-turning appearance and white-knuckle performance.

We even have some killer 5x120 BMW wheels, if you're looking to punch up your Bavarian-made luxury/performance ride. 

5x120 wheels and tires

Time to replace your tires too? Why not get a double dose of awesome and turn your new rims into a custom-designed 5x120 wheel and tire package?

While digging through our seemingly endless inventory can seem challenging, we've made tire and wheel shopping online a snap thanks to a couple simple tools.

With our wheel visualizer, you can easily find the right 5x120 rims for you and see how they'll look on your ride. Then, you can use Treadwell to find the perfect set of tires to wrap around your new set of 5x120 wheels.

If you're hunting for the best deals on 5x120 wheels (or any other wheel out there), then you're in the right spot. Our stores are staffed by wheel lovers and auto enthusiasts and our shelves are stocked with the best wheels out there. 

And if you don't see the rims you're after, just give us a call. Our stores can help you find and special order just about any rim out there, with a price match guarantee on any advertised price.

When you're ready to take the leap and outfit your ride with a new set of 5x120 wheels, go ahead and swing on by your nearest store. You can also schedule an appointment online!