5x127 Wheels
Whether you're going off-road or doing this week's carpool, you can spice up your ride with a set of 5x127 wheels.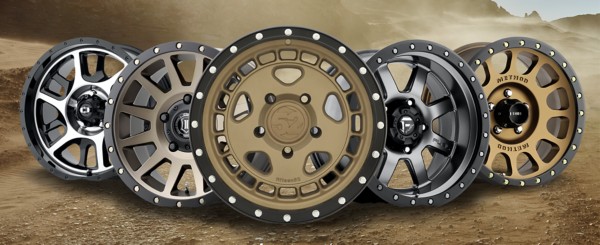 Is 5x127 the same as 5x5?
We hear this question a lot, and the answer is: yes! 5x127 is the metric variant of 5x5 wheels.

And if you're wondering what cars use 5x127 bolt pattern wheels, there are quite a few out there. You can find 5x127 rims on a huge range of vehicles, encompassing minivans, station wagons, classic cars and even modern off-road machines.

Whatever ride you roll in, you can get the wheels you're looking for right here. Not only do we have the lowest prices in town, we've also got the biggest inventory of aftermarket wheels in the industry. We've got options from the most respected wheel builders out there. Some of our favorites include American Outlaw, Black Rhino, Fifteen52, Fuel, Icon Alloys, Method Race, Vision and XD.

We also have all the most popular sizes available, so whether you're looking for 17-inch 5x127 wheels, 20-inch 5x127 wheels or even 22-inch 5x127 wheels, we've got you covered.

Want to see more? Take a look at our full wheel catalog.

5x127 bolt pattern

One of the more common five lug arrangements, the 5x127 bolt pattern is used on everything from rock-crawling Jeeps to classic Ford T-Birds and even on the family Dodge minivan. No matter what you drive or how you drive it, there's a 5x127 wheel out there for you.

(Check out our guide for a deep dive into all things bolt pattern!)

Looking for rugged good looks in a classic five spoke design? Look no further than the American Outlaw Lonestar. You don't have to live in the Lone Star state to appreciate this wheel's rugged aesthetic and iconic star-inspired design.

On the other hand, if you want to give your car or SUV a vintage mesh look with a modern aluminum build, the Voxx Nova is the wheel for you. With its sleek, gloss black finish and strong construction, the Nova stands out no matter where the road takes you.

And drivers who want to crank up the cool factor of their off-road rig should take a long hard look at the Fuel Krank. This 8-spoke, deep dish wheel has all the mean-machine off-road features you want, including rim flange rivets, window cutouts and machined spoke details. Whether you're cruising the blacktop or battling the elements, this wheel will have all eyes on you.

If you need new rubber, how about turning your wheel upgrade into a true power couple? It's as easy (and fun) as designing your own bespoke 5x127 wheel and tire package.

First, take a look at our wheel visualizer to see how your favorite wheels look on your exact vehicle, including make, model and OE paint color. When you've settled on the perfect rims, Treadwell can guide you to the ideal tires for your unique driving needs.

Still not seeing the right rims for you? Our stores can find and special order almost anything out there. No matter how elusive the wheels you're hunting for, you can give us a call and we'll help you nab the look you need.

When you're ready to whip up a new look for your whip, schedule an appointment at your nearest store and we'll get you taken care of!