6 lug rims
Crank up the curb appeal and performance of your truck or SUV with a set of 6 lug rims.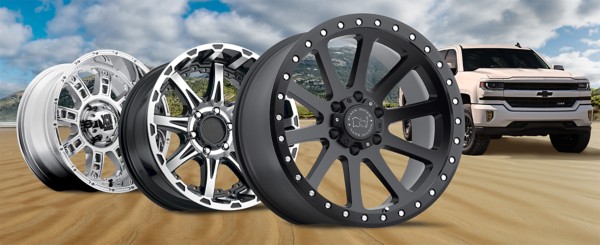 6 lug wheels
No matter what you use your ride for, there's a 6 lug wheel out there with your name on it. 

Whether you want to outfit your pickup truck with a set of tough-yet-stylish wheels or you want to give your off-roading rig an upgrade in durability and rugged looks, you're in the right spot to find the six lug rims to suit your needs. 

Our massive inventory of aftermarket 6 lug wheels includes options from rim-building greats, such as American Outlaw, Black Rhino, Fifteen52, Fuel Wheels, XD Series and many, many more.

With all of those build options, it should be no surprise that we have a wealth of 6 lug fitments for your ride. We have 20 inch rims 6 lug, 17 inch rims 6 lug and 16 inch rims 6 lug, just to name a few.

We even have great 6 lug trailer wheels. Whether you're replacing an old wheel or you want to give your trailer a style upgrade, we've got 6 lug trailer rims ready and waiting for you.

And if you're hoping to upgrade your 6 lug Chevy rims, we've got you covered there too. 

Whether you're upgrading the rims on your Tahoe, Silverado or even your Chevy van, we've got a massive supply of aftermarket and OE replacement wheels to get your ride rolling on 6 lug Chevy wheels in no time.
6 lug wheels and tires
While upgrading your 6 lug rims can improve the look and performance of your ride, you can kill two birds with one stone by custom designing your very own 6 lug rims and tires package. 

Because we have the largest assortment of tires and aftermarket rims anywhere, the one challenge will be deciding which tires and wheels are right for you. Luckily, we've put together a couple simple tools to help you sort through our inventory without a hitch.

With our wheel visualizer, you can easily find the perfect wheels for you and see how they'll look on your ride. Then, you can check out Treadwell to find the perfect set of tires to wrap around your new 6 lug wheels.

If you're after a set of 6 lug wheels that you can't find on our site, don't give up just yet. Our stores can special order just about any wheel out there, no matter how obscure the fit or how unique the finish. Give us a call and we'll get you sorted.

When it's time to upgrade your ride with a new set of 6 lug rims, visit your nearest store and we'll get you taken care of. And if you want to save your place in line, you're welcome to schedule an appointment online or over the phone.