6x135 Wheels
Whether you're upgrading your pickup or full-size SUV, you can't miss with a set of 6x135 wheels.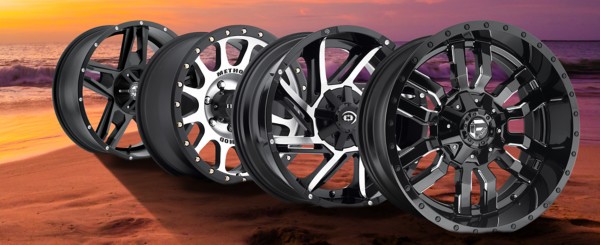 Drivers on the hunt for a set of 6x135 wheels rejoice. Not only do we have the largest supply of aftermarket wheels, we've got tons of great offerings in this unique fitment. And as you know, we only stock wheels from the most respected names in the industry. Some of our favorites include American Outlaw, Black Rhino, Fifteen52, Fuel, Icon Alloys, Level 8, Method Race, Moto Metal, Vision and XD, as well as many other great brands!
With such a wide inventory of tires, it won't be any surprise to you that we have all of the fitments you're looking for, including the ever popular 20x10 6x135 wheels. We're well stocked with many other popular sizes, including 17-inch and 18-inch 6x135 wheels.
Whatever rims you're looking for, we've got you covered.
What vehicles have a 6x135 bolt pattern?
If you're wondering which vehicles come outfitted in 6x135 wheels, you're not alone!
Although this bolt pattern is available on quite a few very popular vehicles, it's pretty unique. You'll find 6x135 wheels on the Ford trucks and SUVs, including the F-150, Ford Expedition, Lincoln Mark LT and the Lincoln Navigator.
So, whether you're looking to give your F-150 a boost in off-road grit or you need to navigate your Navigator to new levels of sleek luxury, you can do it all with a new set of 6x135 wheels.
6x135 Rims
No matter what vehicle you're rigging up, you're in for a world of fun when you upgrade with a new set of 6x135 rims.
With builds available from so many of the best wheel makers out there, you've got hundreds of boss options to choose from.
Looking for off-road inspired style with lofty design inspiration? Check out the American Outlaw Lonestar. With its star-inspired design and rugged, off-road ready detailing that includes machined rivets around the its outer rim, the Lonestar is as tough as it gets.
And if you want full-throttle thrills and style to boot, the Method Race MR305 NV has the look you need. Featuring a simulated beadlock ring and a bevvy of mean finishes, including matte black, machined face with black flange and method bronze with black flange, the MR305 NV will elevate your ride to off-road royalty in a single upgrade. If you love the simulated beadlock look but want something with a deep lip and a glossier finish that still pulls no punches, check out the Fuel Sledge.
Finally, if you're looking for a refined boost to your Ford's street-cred, we've got the perfect wheels for you. Introducing the Vision Prowler. Right off the starting line, its twisted eight-spoke design stands out. Look closer and you'll see that those spokes are split, alternating from a shiny machined face to a gloss black finish, giving you the best of both worlds.
6x135 Wheels and Tires
And while you're upgrading your wheels, why not wrap them in a new set of tires? After all, we've made it a cinch to design your very own wheel and tire package.
First, leverage our wheel visualizer to pick out your new wheels and to see how rad they look on your ride. Then Treadwell can help you find the perfect set of tires for your unique driving needs.
If you're still having trouble finding the right wheels for you on our site, we can special order any wheel (or tire) out there. Give us a call and we'll help you find the wheels you're looking for.
When you're ready to amp up your ride, schedule an appointment at your nearest store and we'll get you taken care of.