8x6.5 Wheels
Heavy duty rigs need heavy duty wheels. 8x6.5 wheels are the perfect amount of show and go for your light truck or dually.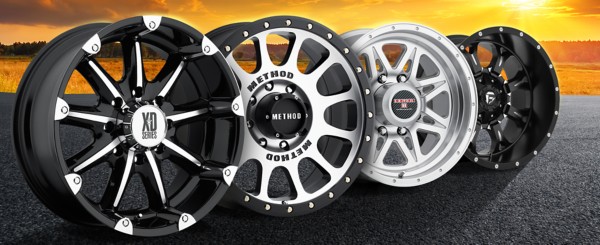 What do 8x6 5 wheels fit?
When it comes to replacing the rims on your rig, it's more than a little important to know which wheels will fit properly. So, you're not alone if you've found yourself asking, "Which vehicles use 8x6.5 wheels?"
Also known by its metric variant, you can fiind 8x165.1 wheels on everything from your 2500 Silverado or Ram 3500 dually to your HD work van. Did we mention the fact that this fitment can also be found on your garden variety gooseneck trailer and motorhome? 
Long story short, if you're doing any heavy lifting, you just might need a set of 8x6.5 rims. 
Whether you're replacing your OE wheels with something stylish and durable or you're looking for a set of no-nonsense 8x6.5 steel wheels, we've got you covered with a fully-stocked arsenal of 8x165.1 wheels from some of the toughest wheel builders on the market.
Our supply includes sick rims from wheel-building greats, such as Fifteen52, Fuel Wheels, Method Race Wheels, XD Wheels and many many more.
8x6 5 wheels and tires
Kill two birds with one stone: make your very own custom 8x6 5 wheel and tires package.
Select from our vast assortment of 8x6.5 aftermarket and dually wheels to upgrade your street game while also selecting from the largest stock of tires on the market to elevate your vehicle's grip. Need help sifting through all those tires to find the right one for you? Try Treadwell—our proprietary tire guide designed specifically to help you find the perfect tires for your needs.
And if you're having a hard time picking out which wheel is the look you're going for, our handy wheel visualizer can do the work for you!
Our stores are staffed by wheel experts who know fitments inside and out. We can help get your truck back out there quickly and safely. Plus, we'll beat any price in town, so you can rest easy knowing you're getting the best deal on any set of 8x6.5 wheels. 
When you're ready to turn your truck into a real heavy hitter, feel free to schedule an appointment at your nearest store or just stop on by whenever you're ready!