Black and Red Rims
Whether you're tricking out your truck or giving your sports car some flex, you can't go wrong with a set of black and red rims.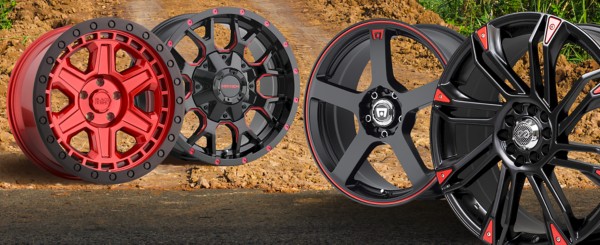 You've seen rims in black and you've seen 'em in red, but have you ever laid your eyes on something quite as slick as a set of black and red wheels?
Since we have the largest inventory of aftermarket rims, you're spoiled for choices when it comes to revving up your ride. Our shelves are well stocked with offerings from the biggest names in the industry. Some of our favorites include Black Rhino, Drag, Enkei, Konig, Maxxim, Motegi and Touren.
With our huge inventory of rims, we've got all the hottest finishes with the most demanded fitments. Available in a wide range of sizes, we've got 17 inch, 20 inch and 22 inch black and red rims. Check out our full catalog to see them all.
If you're looking for podium-winning performance and street-ready looks, the flat black, red striped Drag DR-31 checks all your boxes, and then some. And with its split five-spoke design and red-tinted clear coat, the Konig Myth will make you feel like street royalty no matter where you take your ride.
Another best seller is the sleek, twisted Enkei GW8, which features eye-grabbing red accent pieces at the end of each spoke.
Black and red truck rims
If custom truck styling had a pinnacle, this would be it: black and red truck rims.
From the staid black finish to the fiery, red accents, a set of these on your pickup will have people stopping and staring, whether you're exploring the concrete jungle or tearing it up on the trails.
One of our favorite examples is the Mayhem Warrior. This mesh-style wheel features a sleek black finish with prism red accents, milled spokes and off-road inspired rivets encircling the outer rim. From a car show to an off-road race, be ready for anything with this wheel on your rig.
If you're looking for something with a subtler hint of red, we've got just the wheel for you. Drumroll please...introducing the XD Snare. This deep lip wheel features a black outer rim, a machined face and a red-lined center cap.
And if you want a true showstopper, the Reno from Black Rhino features a candy red finish with a black lip that's guaranteed to command attention.
Is it time to re-up on tires? How about turning your wheel upgrade into a classic combo by building your very own black and red rims and tires package?
First, use our wheel visualizer to see how your chosen wheels look on your ride, including make, model and OE paint color. Once you've picked out your perfect wheel, hit up Treadwell to find the ideal tire recommendations for your driving needs. After that, you're ready to roll.
Can't find the look you're after? Give our stores a call and we can work with you to locate and special order the perfect wheels for you. We'll have you rolling on your favorite black and red wheels in no time.
If you want to take your ride to new heights of performance and style, schedule an appointment at your nearest store and we'll get you taken care of.