Concave Wheels
Get the best of both worlds for your ride with concave wheels—the perfect pairing of strength and customization.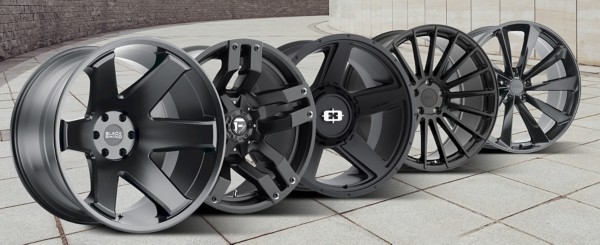 Looking for concave wheels? Check these out!
If you're looking to give your ride a face lift but don't want modifications that reduce performance or compromise drivability, then you need to get yourself a set of concave wheels. 
Perfect for trucks, SUVs, high performance and even passenger cars, concave rims offer a wide range of benefits including improved strength, long lasting durability and an excellent opportunity to improve the stance and curb appeal of your ride.

We stock the largest inventory of OE and aftermarket wheels, so don't worry about the hassle of tracking down the right rims for you. You can check out our huge selection of the top wheel manufacturers in the industry, including Konig, Black Rhino, Fuel, Method Race Wheels, Moto Metal, Vision, and XD.

Concave Rims

Whether you're looking for sporty, aggressive, futuristic or luxurious vibes for your ride, there's a concave wheel for you. Something to consider is the depth of the spokes from the center hub; the deeper they're set, the more dramatic these wheels will look.

Deep concave wheels like the Black Rhino Raze contrast sharply with the more mild (but no less visually interesting) TSW Bardo.  For something a little more slender and generalized (but can really make your crossover pop) check out the TSW Aileron or TSW Luco. If you prefer a classic five-spoke concave wheel in bronze, check out the DR-79 by Drag. 

Regardless of your choice, you'll be packing a formidable combo of performance, durability and good looks. Remember that many concave wheels are forged, so they perform better, last longer and are mechanically stronger than cast wheels. 

For even more feel good customization options, check out our (dimensions) concave wheel sets!

Concave Truck Wheels

Looking for concave truck wheels? You're in the right place.

Unlike deep dish wheels (URL link), which offer a very deep set center hub and spokes, the high end and unique look of concave rims offers the compromise of a deeper-set hub paired with interestingly arranged spokes—all without the potential of creating a reduction in performance. 

In fact, concave wheels are considered to be very strong and durable, and are excellent options for trucks and trailers that face rough and tumble treatment.

But why not look good while working, too? Consider the rugged Empire by Vision Wheel which offers simple but sturdy lines and construction in a trendy black matte finish. For a deeper lip, consider Black Rhino's Raze (it's also good for trucks)!

If off-roading and 4x4 is a part of your rig's gig, then you also can hop on the concave truck rim wagon without sacrificing performance even when the going gets rough. Concave wheels are great for off-roading because they can help protect your tire's valve stems from damage. Make it happen with a set of Fuel Pump wheels, one of the go-tos for concave 4x4 rims.

Overwhelmed with options? Don't worry! We make it easy with a couple wheel shopping tools that can help you get an idea of concave wheels you're after. 

With our wheel visualizer, you can easily see how a pair of concave rims will look on your exact truck or car model and OE paint color. Complete your new set of concave wheels with some brand new tires using Treadwell to help choose the perfect tires to complement your new, updated look. 

Still can't find what you want? Don't worry, we can special order almost any wheel or tire and match any advertised price! When you're ready to roll out on some new bling just give us a call and set up an appointment at your nearest store!

There's a set of customized concave wheels out there for every style, every car, every truck, and every price!