Dually Wheels
Whether you're working a 12-hour shift or heading out for a weekend of play, make sure your dually truck has all the strength and swagger it needs with a set of aftermarket dually wheels.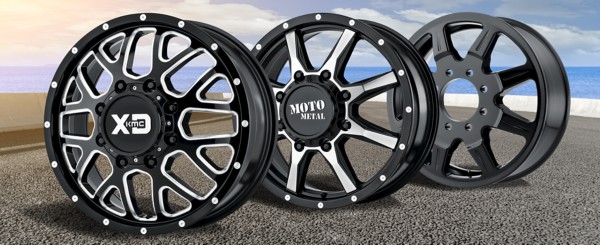 We go the extra mile to offer the largest stock of aftermarket wheels available. That includes our huge range of dually wheels from some of the hottest wheel manufacturers out there.
Want American Force dually wheels? They're just a special order away. Or maybe you're looking for Fuel dually wheels. No surprises here, we've got a range of Fuel dually rims in stock and ready to go.
If you're looking for other dually wheel options, you're in luck. We have XD dually wheels, Moto Metal dually wheels, Ultra dually wheels and many more.
Don't see the dually rims you're looking for? No sweat. Anything we don't have in stock in-store or online, we can special order for you. Just call or visit your nearest store! 
Dually wheel and tire packages
Two birds, one purchase. Upgrade your dually's style and traction by custom-designing your very own dually wheel and tire package. This gives you the ultimate control over how your dually looks and performs, all with a single purchase.
Leveraging Treadwell, our tire decision guide, you can easily comb through our entire stock to find the right tires for your dually and its payload. And there's no need to wonder how your truck will look with a new set of rims. You can get the full picture of how sick those new dually wheels look on your rig using our wheel visualizer.
The best part of this bargain is that we guarantee the lowest prices on our tires and wheels. That means you can deck out your dually without worrying about whether you got the best deal possible. 
When it's time to upgrade to a new set of dually wheels, we're ready to get you taken care of. Our tire expert and wheel-enthusiast staff have years of experience outfitting heavy duty trucks, so you can count on them to get your rig rolling both safely and quickly. 

Feel free to schedule an appointment at your nearest store and we'll get your dual-wheel truck back on the road in style.