Gold Rims
Go for gold: add the perfect amount of flash to your ride with the right set of gold rims.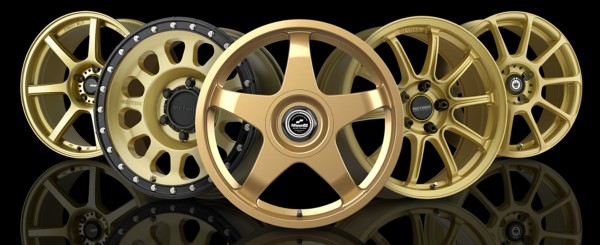 Gold car rims
Finessing your ride with a set of gold car rims is a surefire way to up the curbside appeal of your ride. And with the right gold wheel, it can be a serious boost in performance too.
From the rally-ready Method Racing MR503 Rally to the king-of-the-street Konig Ultraform, we have a wide selection of gold wheels that are designed to max out your car or truck's style and performance.
In short, these wheels aren't just jewelry for your car. They're performance pieces that can reduce your unsprung weight, lower your rolling resistance and give you the extra edge you need to rule the road.
Gold truck rims and gold SUV rims
Want to give your pickup or SUV the royal treatment with a set of gold rims? We've got you covered.
Don't think a set of gold truck rims will soften up your rig—these golden wheels might be stylish enough for the red carpet, but they're also tough enough to take off road.
Gold styling never looked so rugged as it does on the Mayhem 8302 MGD Scout. And you can unleash off-road mayhem with refined design when you outfit your truck or SUV with the Method Racing MR315. With its street-legal bead lock design and golden finish, this rim will elevate your truck to off-road royalty.
No matter what vehicle you drive, you can find gold rims in the fitment you need thanks to our wide selection of gold finish sizes. We have 16, 17 and 18 inch gold rims, and many other popular fitments.
If you don't see the size or finish you're looking for, we can help you out. For instance, rose gold wheels are now one of the most sought after finishes out there. If you've got rose gold on the brain, we can find it for you.
When you're looking for hard-to-find sizes like 22 inch gold rims (or the even rarer gold 24 inch rims), you might not see them on our site, but if you give us a call, we can special order them for you.
And if you need any confirmation (although we doubt that, considering how sick gold rims look), you can always get a preview of what your new gold wheels will look like on your car using our wheel visualizer!
When you roll on gold wheels, you get refined styling, luxurious looks and peak performance. All you need to do from here is schedule an appointment at your nearest store and we'll get you and your ride all gilded up!