Matte black rims
From your off-road rig to your race-ready tuner, rev up your ride with matte black rims.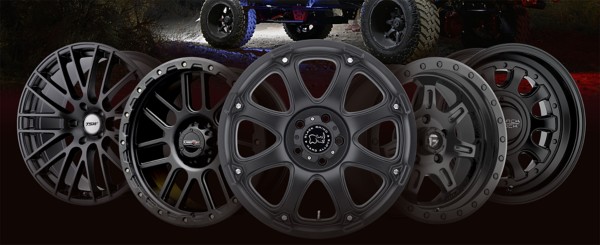 We don't like to brag, but we have the largest assortment of aftermarket wheels (and tires) on the market. So, if you're on the hunt for a set of matte black rims, you're in the right spot.
We have some killer matte finishes from many of our favorite wheel brands, including Black Rhino, Fuel Wheels, Fifteen52, Vision Wheels, Konig, Enkei Wheels, TSW and many more. 

If you want to give your sports car a mean, speedster look, consider the Konig Control. 

And if you're looking for matte off-road wheels with a military-inspired aggressive stance, go ahead and add a set of fan-favorite Black Rhino Armory wheels to your shopping list.

With our massive supply of matte black rims, it should come as no surprise that we have a range of sizes available to fit almost anything you can take on (or off) the road. We've got the most sought after sizes, including 20-inch matte black rims, 18-inch matte black rims and 17-inch matte black rims, just to name a few.

No matter which black rims you've got your eye on, we can get you outfitted in style, ASAP.

Matte black truck rims
Whether you're rolling in a wicked off-road rig or you're strictly a pavement prowler, nothing will level up the look of your pickup or SUV like a set of matte black truck rims.

If your goal is to give your truck a serious boost in off-road grit, then we can't recommend a set of matte black Fuel wheels enough. The team over at Fuel are notorious for their mean designs and rugged, durable builds. 

Just check out the Fuel Maverick to see what we mean. This aggressive rim from Fuel wheels features a slick matte black finish and refined machine details, making it the perfect upgrade for your off-road rig.

(Want to make sure your new rims stay fresh? We can help you learn how to clean matte black rims in our quick guide for cleaning your wheels.)

And if it's time to replace your tires, then why not take the leap and make your very own matte black wheels and tires package? 

With our wheel visualizer, you can easily find the perfect matte black wheels for you and see how they'll look on your ride. Then, you can check out Treadwell to find the perfect set of tires to wrap around your new matte rims.

Can't find the wheels you're set on? Don't worry: our stores can special order just about any wheel out there. Give us a call and we'll get you taken care of.

When you're ready to own the road and upgrade your ride with matte black rims, swing on by your nearest store or schedule an appointment to save your place in line.