Negative Offset Wheels
Make them look twice with negative offset wheels for your ride or rig!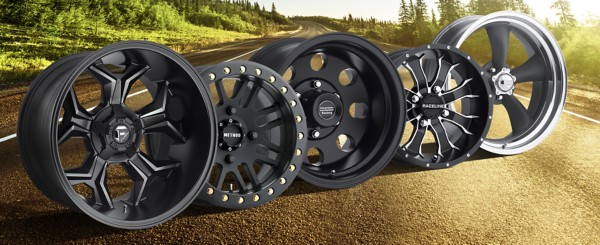 Don't let the name fool you: negative offset wheels will do nothing but have a positive effect on the appearance of your ride. They're the perfect solution for your very specific driving needs if you have a truck, off-road rig or high performance car in your garage.
When you need a wide, aggressive stance for performance or to fit a bigger tire, or you need negative offset wheels.
Negative Offset Rims
Negative offset wheels allow wider tires in the back, and if you're looking to equip your Mustang, Chevelle, Challenger, Camaro or Nova with some classic performance rims, then the American Racing VN215 Classic Torq Thrust II 1 PC is the way to go. Boasting a cool mag gray center polished barrel finish, hallmark machined lip and traditional five lug bolt pattern, this negative offset wheel offers classy aesthetic and performance to trucks, muscle cars and classic cruisers alike.
But if you're looking for a more vintage look, the American Racing VN309 Torq Thrust Original is the original holy grail of classic muscle car wheels. With a throwback silver finish and trusted history of performance, this negative offset wheel will not fail you.
Negative Offset ATV/UTV Wheels
You probably know that some ATV/UTVs that operate in the sand need a wide stance for sand dune fun in the sun! Keep the fun going with the ever dependable Raceline A77 Mamba. With its black machined face and wide eight spoke design, your rig will perform well and look good!
For that traditional negative offset wheel with a beadlock look, check out the Method Race Wheels MR406 UTV Beadlock. Sporting a handsome bronze face with black rim, it's a true beadlock design—perfect for off roading and your negative offset fitment.
Check out all of our ATV/UTV wheels!
Negative Offset Wheels for Trucks
If your lifted truck or off-roading rig needs bigger tires or a wider stance, negative offset wheels can make it happen!
You can combine substance and style together with the American Racing AR172 Baja. Available in a satin or matte black finish with either five, six, or eight lug bolt patterns and a get-er done design, this negative offset truck wheel is perfect for either a classic or modern truck.
For a more understated but no less striking visual treat to the eyes, the American Racing AR969 Ansen Off Road negative offset wheel is the way to go. Featuring rough and ready spokes with a satin black finish that looks great whether it's dirty or clean, this option is perfect for trucks and comes in a variety of wheel sizes and lug bolt patterns, making it an ideal option for indecisive buyers.
Another good option, especially if you prefer a more airy look but still want aggressive performance, is the Black Rhino Sidewinder which offers a sturdy concave wheel design, aggressive black matte spoke pattern and riveted rim.
Check out our entire selection of truck wheels and rims!
If you'd like more customized help picking out your new wheels, then check out our handy wheel visualizer. It lets you test out your chosen wheels on your vehicle's exact make, model, and even OE paint color!
And if you're going with new wheels, why not check out some new tires to match? Let Treadwell, our personalized tire buying guide, help you make the right choice for you, your vehicle and your new set of negative offset wheels!
Still need help? Just give us a call and set up an appointment at your nearest store. We're able to special order any kind of wheels!