The mission of treadwell™ is to give you greater peace of mind, confidence, and a no-worry purchasing experience by providing the most authentic, unexpectedly simple tire comparison and selection process you've ever had.
Treadwell™ - Your Personal Tire Guide
There are over 210 million drivers in the U.S., and you better believe that we all need different things from our vehicles (and their tires). That's why it's our belief that when it comes to buying tires for your vehicle, there's no such thing as the perfect or best tire. What does exist is the right tire for your needs.

But what does "the right tire" actually mean?
How does Treadwell™ work?
Even just a couple of minutes of online research on tires can make you want to give up. With so many technical terms, sizes, codes and types, it's certainly not for the faint of heart.
Shopping for tires can be overwhelming, intimidating and even deflating. Treadwell™ is here to change that.
But for those who actually need that "right tire" right now: that's why Discount Tire created treadwell™.
Treadwell™ was purpose-built to personalize and deliver the optimal tire recommendations for your vehicle – on down to the year, make, model and trim – as well as for your budget, commute, driving style, location, safety needs and more.
Because it's backed by millions of real data points and professional, unbiased real-world tire performance measurements, the value you and your family will get over the life of the tires you choose by using treadwell™ is unparalleled as an online tire comparison and research tool.
And the best part? It only takes a minute or two to get an easy to understand set of personalized tire recommendations, right at your fingertips.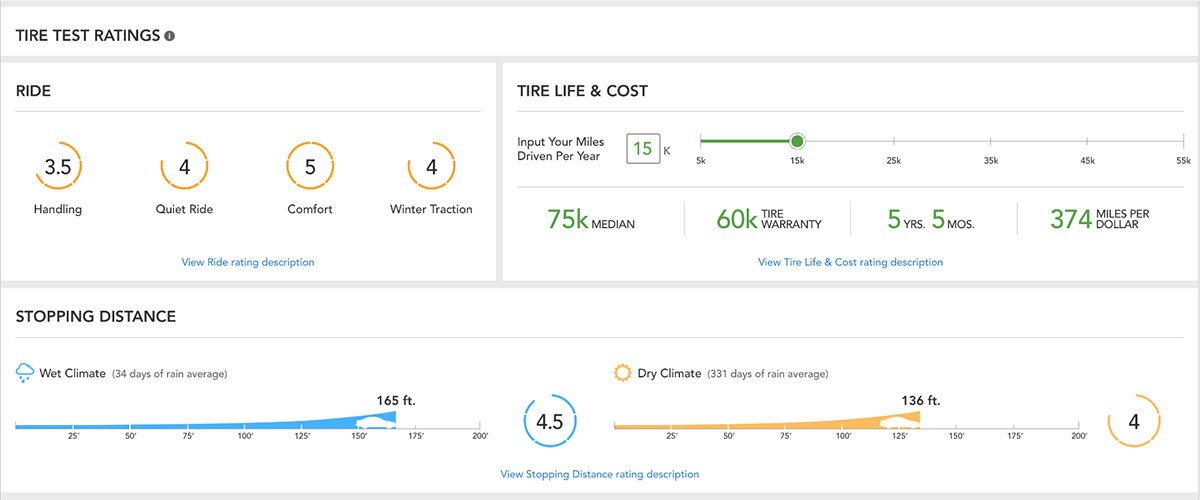 Treadwell™ Tire Test Ratings
Ride
Handling - The ability of a tire to respond well to a change in direction. Handling tests are specifically designed to simulate typical driving conditions.
Quiet Ride - The tire's overall noise level. Noise is evaluated on both smooth and rough surfaces to simulate different road surfaces
Comfort - The ability of a tire to absorb road roughness and imperfections. Comfort tests and road surfaces are chosen specifically to simulate normal everyday driving.
Tire Life & Cost
Median - The median tire mileage is calculated by taking the lowest and highest mileage this tire has seen in everyday driving situations.
Years/Months - The years/months of tire life is calculated by taking the median tire mileage and dividing by the number of miles driven per year.
Miles Per Dollar - The miles per dollar is calculated by taking the median tire mileage and dividing by the retail price of the tire shown.
Stopping Distance
Stopping Distance - The distance in feet it takes a professional driver to stop the test vehicle, going 60 mph.
Weather Data - The average of the last 10 years of weather records by zip code, from the National Oceanic and Atmospheric Administration (NOAA).