White Rims
Form and function have never combined in such a clean package. If you're looking for the ultimate upgrade for your ride, you're clearly after a set of aftermarket white wheels.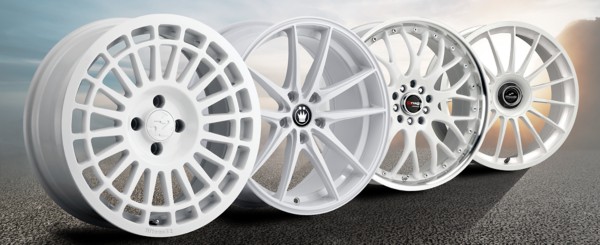 While there are hundreds of finishes to choose from, rims with a white finish truly stand out from the crowd.
Don't believe us? Just check out Ken Block's stable of vehicles, most of which are decked out in white-finished versions of his exclusive Rotiform, Fifteen52 and Fuel wheels. 
(And don't forget to check out our blog post to learn more about Ken Block's Fuel collaboration.)
White rims for cars
Whether you're running an import tuner, muscle car, or something else entirely, there's no surer way to make it turn heads than with a set of white rims.
And while these wheels may look great, many of them are also designed to give you an edge in performance thanks to their strong, lightweight design. That means your new wheels can help your vehicle improve its lap times, drag slips, auto-x performance and more.
If you know anything about us, you know that we have a huge range of rims in stock, including a seriously sick selection of white wheels. We've got options available from wheel-making greats like Fifteen52, Konig, Vision, Drag and others.
Our wide range of white wheels also covers every popular fitment, including white 18 inch rims, white 17 inch rims and many more. (If you don't see the fitment you're looking for, just give us a call and we can special order it for you.)
Whatever size white wheel you're looking for, you're in the right place to suit up your souped up ride.
Your nearest store can get you sorted out with just about any size, brand and style of white rim on the market (at our notoriously unbeatable low prices). The hottest, newest wheels are just a special order away.
When you've found the perfect white rims for your vehicle, you can buy them online and schedule an appointment to get them installed at your convenience. You're also more than welcome to drop on by the store nearest you and we'll get you taken care of.