What tires should you buy for your Honda Civic?
BY: DISCOUNT TIRE - VIA TREADWELL™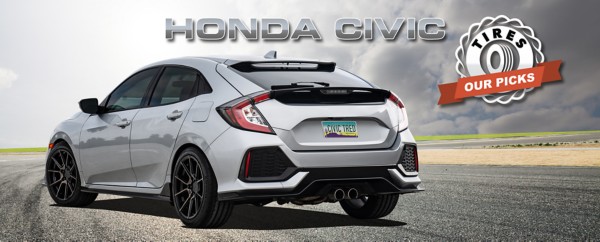 Trim levels: Coupe, LX, Sport, EX, EX-L, Touring, Si, Hatchback, Type R
About: If you're like most Honda Civic drivers, you like its sporty handling but also want to get a decent amount of mileage and fuel economy out your next set of Civic tires. And if rain and freezing temps feature in your winter commute, the choices can be tough. So you might ask yourself…
"When it comes to Honda Civic tires, what should I buy?"
Use: City commuting, interstate travel, zipping around town

Budget: $-$$

CIVIC TIRES – OUR PICKS
Recommendation #1 – Falken Pro G4 A/S

The Falken Pro G4 A/S. Dependable. Comfortable. Sporty? Whether you drive a manual Civic or one of its sportier trim-levels, the Pro G4 A/S lays down solid chops across all of the performance categories of a tire while providing all-season reliability and a predictable and comfortable driving experience.
This is a tire that's doing it all for Civic owners, and could be the perfect upgrade to bring a little life to your VTEC-powered commute.
Recommendation #2 Continental Control Contact Tour A/S Plus

If you're looking for a more comfortable ride combined with solid braking performance and direct steering response from your Civic, the Continental Control Contact Tour A/S Plus might be the answer. Continental has been making tires for cars the size of the Civic for a long time, and is among the best in the segment.
Built with Continental's proprietary tire tread designs that can even improve the fuel economy of your Civic, it's a fantastic fit for those trying to go as far as they can on a tank of gas.
Recommendation #3 Michelin Premier A/S

Highlighting its stopping performance in wet and dry conditions would be to sell the Michelin Premier A/S short, as it performs across the board for basically any category of the typical Honda Civic driver's needs. With high silica content that promotes traction, long-lasting wear and overall safety, it might be the one of the best all-season tires out there.
But what makes it a standout choice for drivers of the Honda Civic is its ability to safely provide direct steering feedback and performance over the life of its 60,000-mile manufacturer warranty. Stable in rain and nimble in the corners, the Michelin Premier A/S offers safe, lasting ride comfort and performance for your Civic.
Want to see recommendations for you and your vehicle on the Discount Tire blog? Fill out this form!
About Treadwell™
Treadwell's™ mission is to give you greater peace of mind, confidence, and a no-worry purchasing experience by providing the most authentic, unexpectedly simple tire comparison and selection process you've ever had. Give it a try here!