38 Inch Tires
Put pavement in your rear view mirror and turn heads wherever you go when you put your rig on 38 inch tires.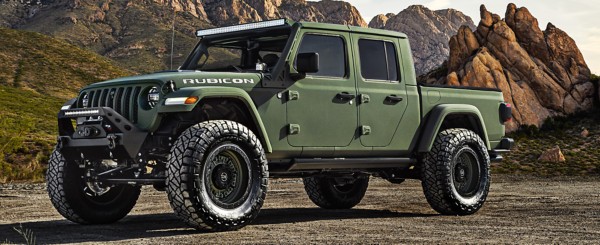 Whether you rock a Jeep with a hitch and skid plates or a lifted Ford F-250 with custom aftermarket wheels, you can level-up your off-road rig's performance with a set of 38'' tires.
Give your 4x4, light truck or SUV the mean off-road bite it needs to back up its bark. We've got you covered with the biggest selection and lowest prices on 38 inch tires.
38 Inch Mud Tires
You never know where your road (or trail) may lead, but you can be ready for whatever obstacles you face on 38 inch mud tires.
From a weekend romping in the slick stuff to an extended overlanding trip where you leave paved roads behind for who knows how long, 38" mud tires are built tough enough to see you through it all.
Designed with aggressive high-void, knobby tread patterns, you could be forgiven for thinking that your 38 inch mud tires typically feature blocky sidewall ridges and alternating shoulder scallops that rip into mud and sand—while also deflecting sharp objects like rocks and sticks.

Add in the armor-like rubber compounds that resist tearing and chipping, and your 38 inch max traction mud tires will help you roll over just about anything in your path. Whether you're upsizing or re-upping, with the right set of 38 inch mud tires, you can face the unknown with absolute confidence.
38 Inch Tire and Wheel Packages
Mudding, rock crawling or even just parked on the pavement, there's no better way to toughen up the look of your vehicle than with a set of 38 inch off road tires and a matching set of custom aftermarket wheels. You know what we're talking about: a bespoke 38 inch tire and wheel package. 
With a range of sizes, constructions and finishes (trust us, we have the biggest selection of aftermarket rims anywhere), there's an off-road wheel out there that will make the perfect match for your new set of 38 inch tires.
Ready to take the leap and upgrade to a set of 38 inch tires? Your nearest store is staffed by off-road enthusiasts who are experts in 38-inch and hi-flotation tire sizes. Just stop in or schedule an appointment to get back out there today.