24x14 Wheels
We don't know of any wheel fitments that come with their own gravitational pull, but if any did, it would probably be a set of gargantuan 24x14 wheels.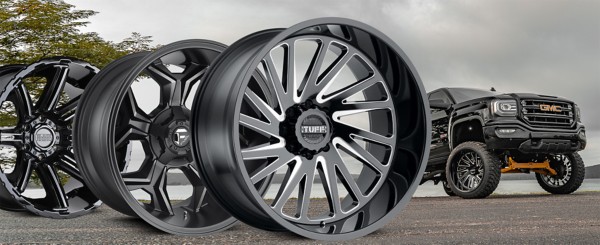 If you're here because you're after aftermarket wheels, you already know we've got you covered. We have 24x14 wheels available in some of the most popular fitments, including: 
When it comes to making the ultimate upgrade with a set of 24x14 rims, our prices and selection can't be beat—especially if you need something in this size special ordered.

24x14 Fuel Wheels
Anyone who knows anything about the world of wheels knows about the serious levels of swagger you can unleash when you ride on a set of 24x14 Fuel Wheels.

From the iconic Fuel logo to the imposing size of their 24'' diameter, Fuel wheels in a 24 inch fitment are unbeatable.

If you want to see what we're talking about, just take a gander at the Fuel Sledge 24x14. This beast of a wheel features a split six-spoke design in a rugged black finish. And you'll notice other off-road ready details including the rivets around the outer rim flange and machined notches on the spoke edges.

Clearly if you want to give your truck a truly unique look and feel, then you want a set of 24x14 Fuel rims.

24x14 wheels and tires

When considering upsizing to a set of 24'' wheels, the only way to up the ante anymore is to custom design your very own 24x14 wheels and tires package.

Not only do we have a wide selection of some of the most exciting 24 inch wheels, we've got some of the best 24 inch tires in stock. Whether you're looking for a street tire, a classic white wall or a rugged all-terrain, you can count on us to get the right tires for your needs. Want a little extra help selecting your tires? Check out our tire decision guide, Treadwell. 

And if you buy from us, you're getting the lowest prices on your new 24x14 wheel and tire package. (As always, if you don't see the wheels you're looking for on our website, don't sweat it. Our stores can special order just about any wheel out there.)

And if you want to see what your ride will look like with a set of 24x14 wheels, check out our wheel visualizer.

They may not quite have gravitational pull, but you'll be seeing stars all the same on a set of 24x14's. Drop on by your nearest store or schedule an appointment today!