5x100 wheels
Whether you're a freeway commuter, a thrill-seeking rally racer or a cross-country road-tripper, you can add a little heat to your ride with a set of 5x100 wheels.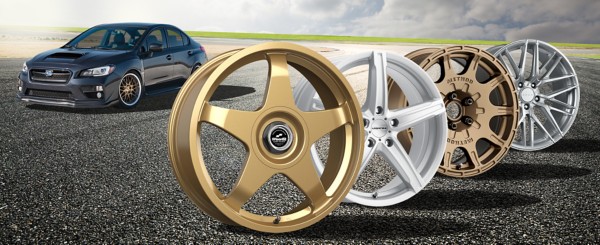 Few car upgrades are as seamless, stylish and affordable as a new set of 5x100 rims. And you know that when you make your upgrade with us, you're getting the best deal possible!
Check out our inventory of aftermarket and OE replacement wheels to see for yourself.

What cars have 5x100 wheels?

If you find yourself wondering "what cars use 5x100 wheels?" you're not alone. It's one of the questions we hear most often about 5x100 rims. 

The answer is: a huge range of vehicles use this 5 lug bolt pattern. 

Whether you drive a sub-compact, a full-size sedan, a sporty coupe or a small crossover, there's a good chance you're riding on a set of 5x100 wheels. The good news is, because they're seen on such a wide range of vehicle types, we keep plenty of these wheels in stock in our stores and online.

Even better, with so much demand for 5x100 rims, you can find replacement options from some of your favorite wheel builders, including Method Race Wheels, Vision Wheels, Fifteen52, Konig, Drag Wheels, Black Rhino and many more. 

We also have a wide range of fitments available with this popular bolt pattern, including 16-inch 5x100 wheels, 17-inch 5x100 wheels, and even 18-inch 5x100 wheels. 

No matter what wheel you're looking for, we can help you find it. And if you don't see the wheel you want, give us a call. Our stores can special order just about any wheel out there.

5x100 wheels and tires

The best way to turn your upgrade into a true one-two punch is by custom designing your very own 5x100 wheels and tires package.

From trying to give your track day ride a boost in style and performance to increasing the fuel efficiency of your hybrid, a brand new set of lightweight 5x100 wheels and matching tires is a classic one-two punch of utility and expression.

Of course, because we have the largest assortment of tires and aftermarket rims anywhere, the one challenge will be deciding which tires and wheels are right for you. That's why we've put together a couple simple tools to help you sort through our inventory without a hitch.

With our wheel visualizer, you can easily find the perfect 5x100 wheels for you and see how they'll look on your ride. Then, you can check out Treadwell to find the perfect set of tires to wrap around your new wheels.

Whenever you're ready to rev up your ride's style and performance with a set of 5x100 wheels, schedule an appointment at your nearest store, or just drop on by at your convenience.