What are the best tires for Ohio?
By: Discount Tire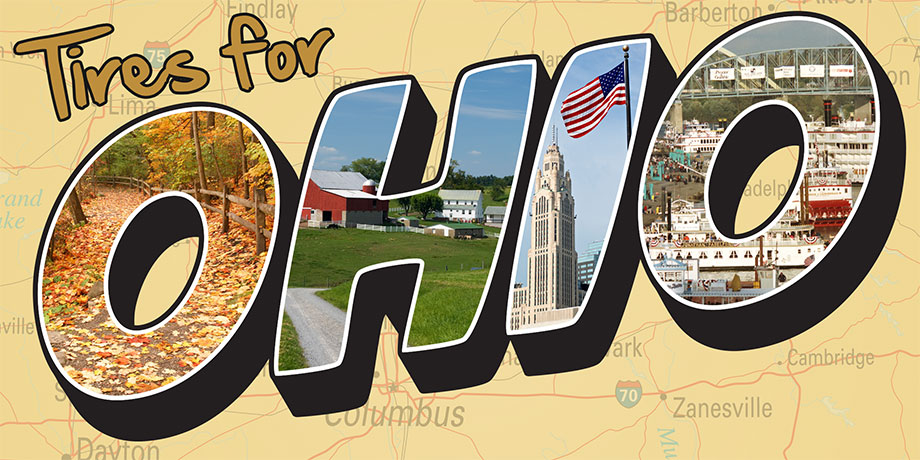 Discount Tire locations in Ohio: 22 (and counting)
First Ohio location opening year: 1998
Common vehicles: Honda Civic, Chevy Impala, Ford and Chevy pickup trucks
Major metropolitan areas: Cincinnati, Columbus, Cleveland, Dayton
Road conditions: Rain, ice, snow, slush, potholes, and construction, mostly due to extreme changes in the weather over short periods of time

"O-H! …"
"… I-O!"
The rallying cry of the Buckeye State can bring Ohioans together in any crowd. Known for its natural outdoor beauty and large manufacturing-based metro areas, Ohio packs all types of people, vehicles, roadways and weather conditions into the state ranked only 34th in land size.
From just about any locale in Ohio, you can find yourself within a few hours' drive of major cities, rural farmlands, lakes, parks, and amusement parks, plus prestigious schools and universities of all sizes.
Ohio honors history and art via dozens of world-renowned museums and halls of fame, like the National Museum of the US Air Force, the Butler Institute of American Art, the Pro Football and Rock and Roll halls of fame, and several automotive museums.
Ohio and automobiles
Though a longtime rival of Discount Tire's founding state of Michigan, Ohio holds a special place in our heart. These two states' mutual love of football may only be outweighed by their mutual significance in the automotive industry.
Historically, Ohioans love making and driving cars (and trucks). During the industrial revolution, steel production in Ohio made it ripe for dominance in the automotive industry and still contains various manufacturing plants for vehicles and auto parts. In fact, there are over 60 racetracks and dozens of trails ready for off-roading in a 4x4.
While Michigan has Detroit, aka the "Motor City," Ohio has Akron, aka the "Rubber Capital of the World."
For most of the 20th century, Akron was the epicenter for tire production in the U.S.; four of the world's major tire manufacturers were headquartered there. Today, only Goodyear remains based in the home of the Rubber Bowl, but their name-recognition alone gives Ohio continued significance in the tire industry.
Ohio weather
What can be said of Ohio's weather? In one word: unpredictable.
Those who live there know it's common to deal with all types of weather in one week, or even in one day. Though summers are mostly hot and humid and winters are mostly colder with rain and snow, fall and spring are a mixed bag and conditions can turn on a dime. Depending on your proximity to Lake Erie, there's the added variable of "lake effect" weather contributing to flooding, overcast skies, humidity and severe precipitation.
Unpredictable weather also underscores how important it is to always be ready for unfavorable road conditions. Combine this with Ohio's densely populated areas and lots of places to go, and you have a recipe for traffic and auto accidents. Capable tires are a necessity—even for the most seasoned of Ohio's defensive drivers—especially if the weather shifts while you're on the road.
Best Car Tires for Ohio
For your car, all-season tires are a good place to start considering Ohio can literally see all seasons in one day without warning. Some of our most popular and highest rated all-season tires in Ohio include the Michelin Defender T+H, the Cooper Evolution Tour, as well as the Goodyear Assurance A/S and Goodyear Assurance WeatherReady. All are considered "Better" or "Best" in our classifications, and our customer ratings back that up as all are rated 4.4 or higher out of 5 stars.
What if you're on a tight budget? Consider the Sentury Touring, a Discount Tire exclusive. Though we classify it as a "Good" all-season tire, it provides a lot of value for the money. Our customers agree; it's rated 4.3 out of 5 stars.
Best truck tires for Ohio
When it comes to online research on tires before you buy, we expect you might check out high-end choices first. Accordingly, our number-one truck tire based on views from online shoppers in Ohio is the Michelin Defender LTX M/S. With a customer rating of 4.9 out of 5 stars and a "Best" classification, you can bet these live up to their advertised predictable handling and long lasting treadwear.
For what most people are purchasing, it's probably no surprise that the Buckeye State mirrors the rest of the country when it comes to truck tires. All-terrain tires with all-season capabilities rule for most light trucks, Jeeps and bigger SUVs in Ohio.
The go-to choice in this case is usually the BF Goodrich All Terrain T/A KO2, a highly regarded tire for several years, and highly rated by Discount Tire customers (4.8 out of 5 stars). Similarly regarded are Goodyear's Wrangler lines, including the Goodyear Wrangler AT Adventurer with Kevlar.
Plus, Goodyear Wranglers that aren't designated as All-Terrain can be a good value, especially in more urban areas. Consider the Goodyear Wrangler SR-A (4.5 out of 5 stars), or for older trucks, the Goodyear Wrangler Radial.
What about snow tires in Ohio?
Though all of Ohio will see at least some snow every winter, winter tires may not be an economical choice for all Ohioans. The marker for effective use of winter tires is when temperatures are consistently below 45 degrees. Unless you live in Ohio's primary or secondary snowbelts, there's a good chance you've never seriously considered winter tires.
But for those that do live in those extra-wintery areas of the state, the typical choices for winter tires apply. Always popular are the Bridgestone Blizzak WS90 for cars and the Bridgestone Blizzak DMV2 for SUVs and light trucks. You also can't go wrong with Nokian Hakkapeliitta R3. We categorize all these among the best winter tires on the market, with countless reviews to back that up.
However, if your budget has you looking elsewhere for safety on snow and ice, consider Hankook Winter Tires. All are in the "Better" category, but their customer reviews average over four out of five stars, making them a good value choice.
Helping with your next set of tires in the "Heart of it All"
When it comes to keeping you safe on the road we're happy to be the experts Ohioans can trust for the best selection of tires at the lowest prices. Call or stop by your nearest Discount Tire store for a customized recommendation of the best tires for your vehicle and budget.