Nokian Hakkapeliitta – buyer's guide
By: Discount Tire

If you're looking for a top-quality winter tire, consider the granddaddy of them all: Nokian's Hakkapeliitta. Sure, it's a funny looking (and sounding) name, but when it comes to reliability in harsh winter conditions, Nokian isn't joking.
First off, Nokian is the world's northernmost tire manufacturer. Though their brand name has only been around since 1988, Nokian is a company that was created from the former "Finnish Rubber Works" (known in Finland as Suomen Gummitehdas Osakeyhtiö) which was founded in 1898. This is the company that developed the world's first winter tire, the Snow Hakkapeliitta, in 1934.
Nokian's mission is safety on the road, even in the most demanding driving conditions. Of course, in northern Europe, hazardous roads due to difficult winters are expected. Although they produce several other types of tires, Nokian is best known for winter tires.
Today's Hakkapeliitta is the descendent of that first winter tire design.
The name "Hakkapeliitta" actually comes from the Finnish cavalrymen in service of the kingdom of Sweden in the 1600s. But horseback military training isn't required to know the security you'll feel with a set of Nokian's excellent winter tires.
To stud or not to stud?
If harsh winters are a certainty in your neck of the woods, your next question should be which type of winter tires are best for your vehicle: studded or studless (aka non-studded)? In general, studded winter tires will give better grip on ice and deep snow, while studless winter tires do better in wet and slushy roads.
In contrast to some other well-known winter tire brands, the Hakkapeliitta family of winter tires offers both. Studless winter tires are more common and can usually provide a safe, comfortable ride in most snowy regions of the U.S. However, Nokian offers "studdable" versions of the Hakkapeliitta, so you can decide if studs are right for where you drive (as long as your local laws permit studded tires).
All Hakkapeliitta lines are already three-peak mountain snowflake certified, or as Nokian touts, "officially approved for winter use." Nokian also has an SUV variant of each line to handle larger vehicles and heavier loads.
Let's examine the current versions of the Nokian Hakkapeliitta one by one.
Hakkapeliitta R3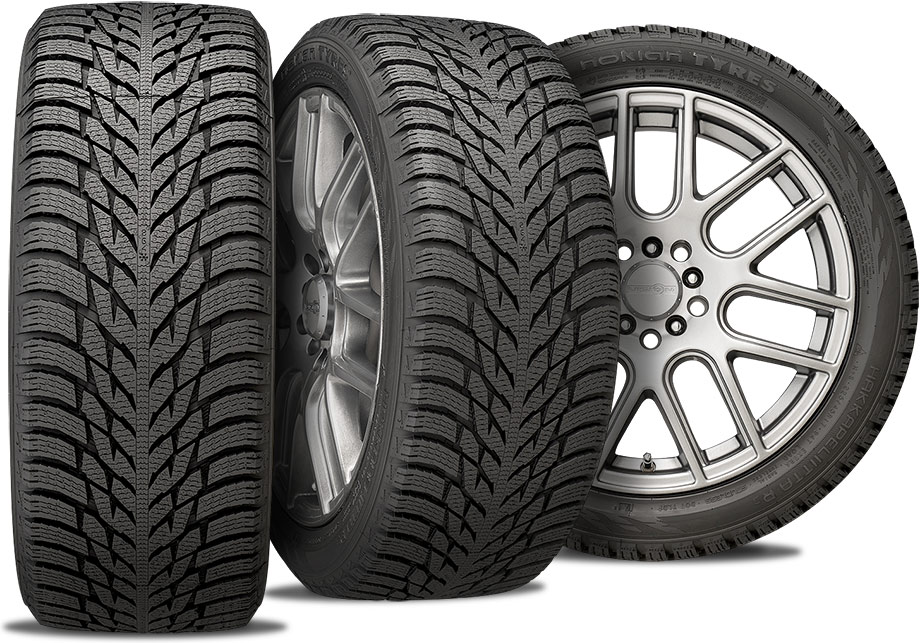 Starting with their non-studded version, the Hakkapeliitta R3 and R3 SUV balance comfort and safety in winter weather while also maximizing efficiency. Thanks to the flexibility of the sipes and specialized "grip particles" added to the rubber compound, you can count on these Nordic wonders to be quiet, controlled and comfy.
The shape of their tread block is reminiscent of a sequence of claws, and Nokian refers to them as such: "Snow Claws." What could be better for grabbing the road than your own set of claws?
These tires also offer extremely low rolling resistance. The result is noticeable savings at the fuel pump or, in the case of EVs and hybrids, increased range.
Hakkapeliitta 9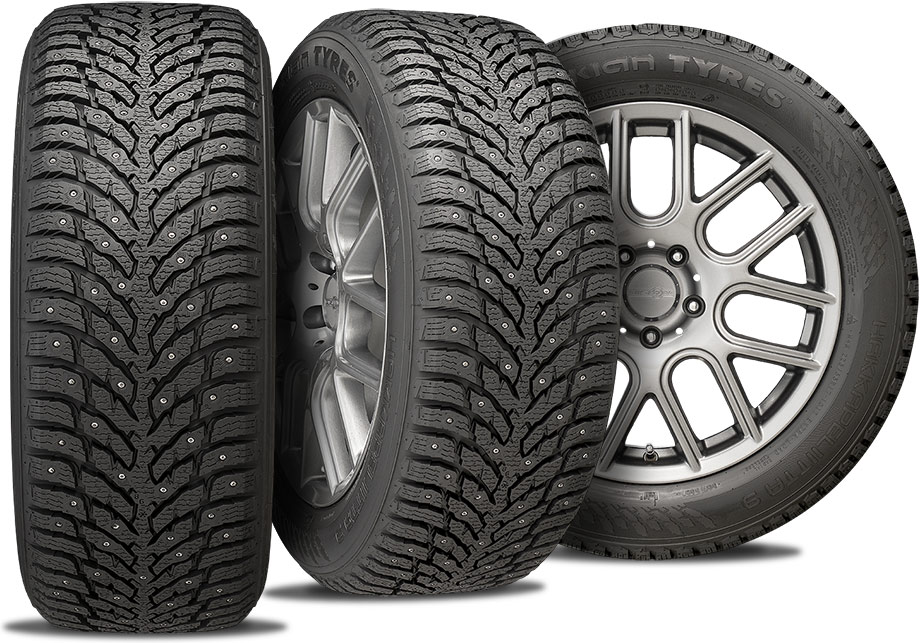 When the winter weather gets extreme, your winter tires must also be up to the task of keeping you safe. You want the balanced, stable handling that the studded Hakkapeliitta 9 delivers.
Nokian bills the Hakkapeliitta 9 and 9 SUV as "functionality for the Northern winter."
We'll put an emphasis on functionality here. There are different stud types across the tread of this tire to optimize braking, acceleration and cornering on ice and snow. It's a patented design known as the "Nokian Tyres Functional Stud Concept." (Note the European spelling of "tyres.")
But these tires are also impressive on the inside. They have a high tensile steel belt that adds to their precision handling and an overall resistance to punctures.
Being studded, you can expect road noise. However, with a unique shape and beveled hard metal tip, the studs help to minimize noise and damage to roads versus those on traditional studded tires.
Hakkapeliitta 8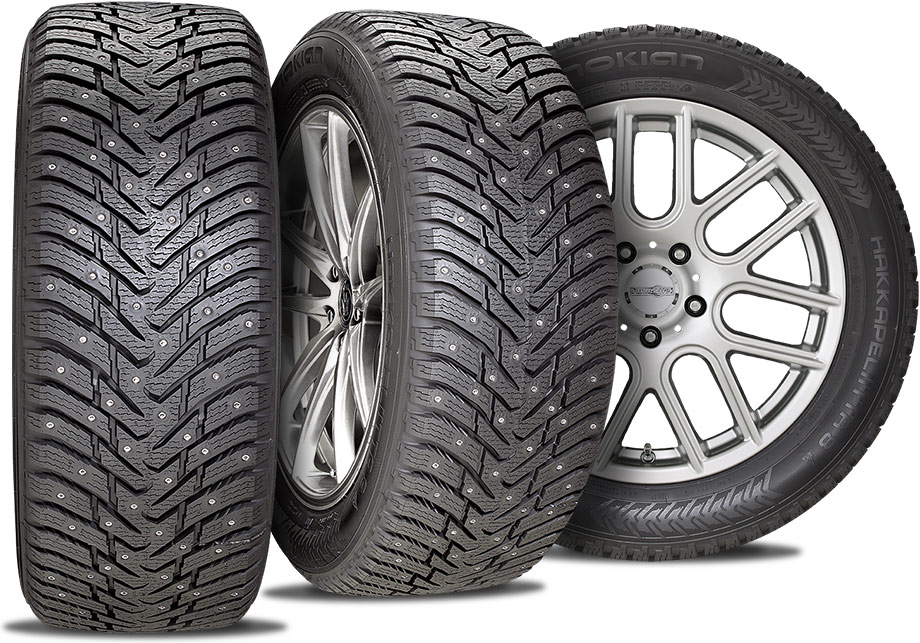 Rounding out Nokian's family of winter tires is the Hakkapeliitta 8 and 8 SUV. They come in studdable and studded variations, plus an optional run flat feature (30 miles with an empty tire on a fully loaded vehicle).
The Hakkapeliitta 8's design incorporates additional tread blocks for a firm, reliable grip on the road, no matter what winter conditions you encounter. Like the other models, you can expect low fuel consumption and a comfortable noise level for a dedicated winter tire.
You don't have to take their word for it, either. They've won several independent comparison tests across northern Europe and around the world with this design.
Other Nokian Features
As if these top-notch winter features weren't enough, Nokian goes out of their way to be environmentally friendly. They use only purified, low-aromatic oils in their tires' production—the first tire manufacturer to do so.
Nokian also offers a satisfaction guarantee for any set of four Hakkapeliitta tires. If you don't think they live up to their storied history and technologically advanced pedigree, you have 30 days from your purchase date to return them for a refund. (Some conditions apply; see details on Nokian's website.)
When in snow, do as the Finns
In northern Europe, necessity gave birth to the invention of the winter tire. Over the decades, Nokian kept pace with the excelling automotive industry, producing tires that are essential for operating a vehicle in the most drastic winter conditions.
As always, count on us to make switching over to your winter tires easy. We're committed to your safety, no matter what conditions ol' man winter has in store. For more information, talk to the experts at your local Discount Tire store for help deciding which Nokian tires are right for your vehicle this winter.
Shop all the Nokian winter tires we carry; make an appointment to get yours installed ASAP!