Whitewall tires
by: Discount Tire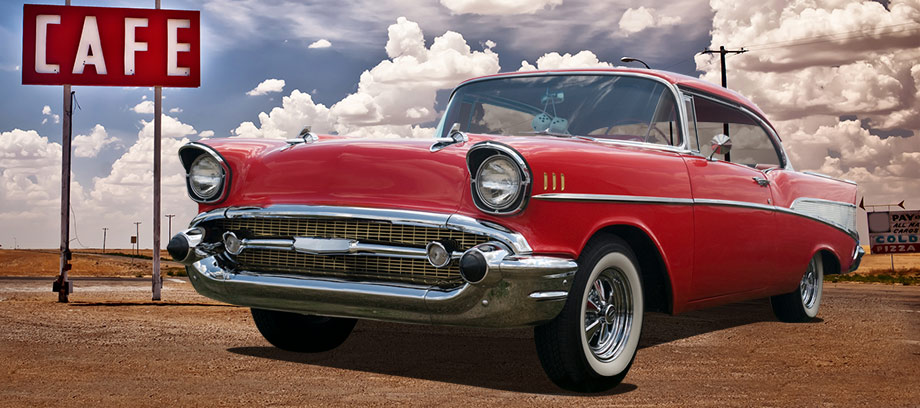 Whatever happened to whitewall tires? The white stripe that once confidently decorated the sidewall of many tires is very seldom seen on vehicles as they roll off today's assembly lines. Like many fashions, they were popular for a time and then fell out of favor.
Of course, there are many vehicles from the past that are nearly unthinkable without whitewalls. But you might be wondering why whitewalls were even produced in the first place.
Form follows function
The color of the first rubber tires used for automobiles in the early 1900s was far from the black that we see tires made today. Their grayish-white color was the natural result of the rubber mixed with common chemical compounds used with rubber at the time.
Early tire manufacturing saw improvements by leaps and bounds as it coincided with innovations in chemistry and engineering during the industrial revolution. One of these advances was to strengthen the rubber used in tires by adding zinc oxide to the formula. This had a happy side effect of making the finished tires bright white.
The next step in improving tires was to make them last longer, especially in the tread. In the 1910s, carbon black was added to the rubber compound for this very reason. As the name implies, it made the color of the tires black as well.
As a cost-saving measure, some tire makers only used a black compound on the tread and left the older white compound on the sidewalls. With that, the whitewall was born.
Whitewalls become a desirable upgrade
Over the next several decades, the two-tone appearance of whitewalls became a standard for luxury vehicles. Additionally, whitewalls became appealing as an upgrade for more common vehicles.
By the 1950s, with additional improvements to tires and upgraded designs of vehicles, the width of the white stripe adorning the sidewall of tires started to decrease in size. Though still considered a must-have for luxury vehicles for decades to come, whitewalls began a downward trajectory in both size and popularity.
Whitewalls fall out of fashion
The move away from the fashion statement made with whitewall tires started with performance vehicles in the 1960s. These vehicles started using a thinner stripe of white to match the aesthetic of speed.
For hot rods and muscle cars, whitewalls soon gave way to white letter tires or plain black sidewalls. This helped put more emphasis on the wheels themselves, usually a sport design in chrome, like the Torq Thrust from American Racing.
On the other hand, nearly all luxury-class vehicles retained whitewalls into the 1990s. However, taking a cue from the aftermarket upgrades of many luxury car drivers, one by one the luxury car models began dropping whitewalls in lieu of larger luxury wheels and lower profile tires.
Classic tires for your classic car

Though new cars aren't making use of whitewall tire designs, your classic vehicle doesn't need to go without them.
Many popular automobiles from the bygone era of America's automotive heyday have been retained or restored (or even re-produced). These cars just wouldn't look right with tires that don't match the period.
Coker Tire specializes in tires for these vehicles and even provides options between radial or bias-ply construction. Get extremely detailed in recreating not only the look but the function of your historic pride and joy:
Retaining the air of luxury

A stalwart in the luxury wheel and tire marketplace is Vogue Tyre. They even lay claim to inventing (or helping to invent) whitewalls as we know them. Plus, they've refined them to bring a bit of classic style to today's vehicles.
Vogue's whitewalls (and white plus gold sidewalls) could be the perfect match for your luxury vehicle. Check out these new variations on the classic whitewall theme:
Make your modern car stand out
Depending on the size of the tires required for your vehicle, there may be some good options to install whitewalls, even on later model cars. If you want to add some classic luxury style or simply set your car apart from others like it on the road, consider these lines of whitewall tires:
Dress up your car with whitewalls at Discount Tire
If whitewalls are a necessity for your vehicle, look no further than Discount Tire. We have the selection to outfit your vehicle with the best whitewalls at the best price. Call or cruise over to your neighborhood Discount Tire store and we'll get you taken care of.