At Discount Tire, we do our best to minimize waste when it comes to tires that are at the end of their life. When it's time to replace your tires, not only do we take every step possible to ensure tires are properly recycled, but we actively attempt to mitigate needless tire waste by educating our customers on how to properly prolong and maintain tire life.
Tire Recycling the Discount Tire way
The thing about tires is that they don't break down very easily. It's why a tire from decades ago could very well still be intact and taking up space in someone's backyard, if not creating the perfect home for mosquitos, rodents and other vermin.
Tire recycling is by far the best approach when it comes to reducing the overall amount of scrap tires in our communities.
Advancements in technology, new laws that punish tire dumping and state-mandated disposal fees have all significantly reduced the amount of tires that are illegally dumped.
At Discount Tire, we ensure that any tire that is either being replaced because it is damaged or at the end of its life is handed over to a third-party tire recycling collections operation, where the steel bands that make up the structural support of today's tires are separated from the vulcanized tire rubber.
From here, these components are individually recycled or repurposed, minimizing as much waste and pollution as possible in the process.
Where to take old tires
If they're still on your vehicle and it's in drivable condition, the answer is easy: to your closest Discount Tire location. We'll get you all taken care of when it comes to picking out new tires and will safely and responsibly ensure your old tires are recycled in accordance with local laws.
But what if you've got a spare or gently-used tire on your hands that you don't have any use for?
Creative uses for old tires
For any of the following crafts and DIY-ideas for old tire uses, you'll want to first clean your tires. Whether you plan to use spray paint or eventually cover the tire with cloth or twine, it's always a good idea to get any dirt and grime off of a tire, especially if it actually has been used.
It doesn't take long to get ideas for the different things you can make out of old tires.
Even a quick Google search of "what to do with old tires" can give you some great ideas of what's already out there.
Some of our favorite ideas for repurposed tires include:
Dog beds
Coffee/side tables
Planters and gardening applications
Ottoman and footrests
Tire swings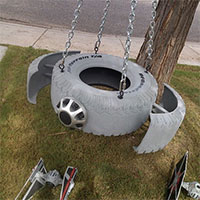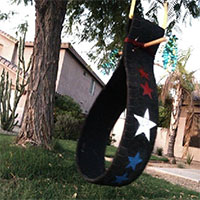 What not to do with old tires
Things you absolutely should never do with your old tires include littering or dumping them in a body of water, as well as attempting to burn them. If you have a blowout, it's always advisable to collect the scraps of tire that may have torn off on the way to pulling over, but you should also never do so on a busy road or freeway.
From here, we can help you get your spare changed out and returned or secured to wherever it belongs in (or on) your vehicle.
And at the end of the day, if your tires are at the end of their life you've come to the right place. At Discount Tire, our employees are happy to help answer any questions you might have about how we can help you replace or recycle your tires, and can get you back on the road in no time!