General Grabber – buyer's guide
By: Discount Tire


Don't let the "General" name fool you. They produce tires for all types of specific applications, including the Grabber family of tires for pickups, SUVs and Jeeps, which also comes from a pedigree of specialty tires.
General Tire was founded in 1915 in Akron, Ohio, as a direct competitor to Firestone (already a major player in the tire game at that point and one of the original "Rubber Capital" companies). General started by specializing in higher-end tires.
Today, General Tire is part of the Continental Tire Company. They produce full families of tires for cars and trucks, with lines specific to passenger vehicles, performance vehicles, and trucks, on and off the road (not to mention winter tires and commercial vehicle tires).
Focusing on the Grabber family, General now has over 100 years of research and technology to culminate in their current lines for highway, performance, all-terrain and off-road. But with several lines of Grabber tires to choose from, how will you know which is best for your SUV or pickup truck? Discount Tire is here to help.
Even though there is a Grabber tire specific for where and how you drive, there are some commonalities across the Grabber lines. As their name implies, you can count on a set of Grabber tires to grip the road (or trail, in the off-road designs), as well as grab attention with a bold look.
Also, you can count on a well-constructed tire with high strength steel belts and tread compounds designed to resist cuts, chips and punctures. And though we're not getting into the winter-specific Grabber lines, many of the tires below are also three-peak mountain snowflake certified, so you know you can count on them in at least lightly snowy conditions.
General Grabber APT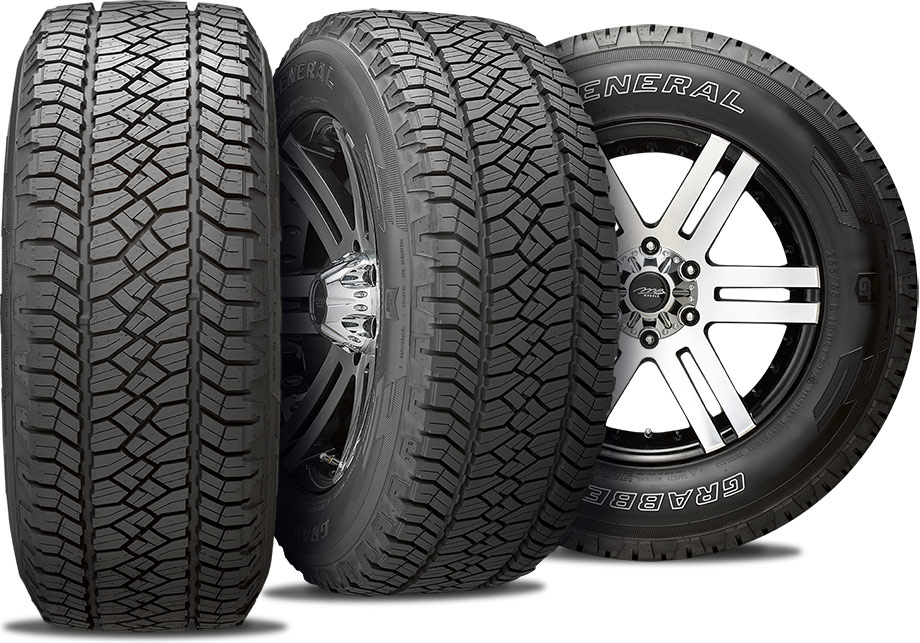 Starting with the most general-use design of Grabber tire, let's examine the General Grabber APT. As the OE tire on the Nissan Titan, this all-purpose tire for SUVs, crossovers, and pick-up trucks prioritizes comfort on the road with General's ComfortBalance Technology. This includes a layer under the tread to smooth out a drive on an otherwise bumpy road.
In the looks department, it may seem a little conservative versus its true all-terrain counterparts, but the alternating shoulder scoops and StabiliTread technology (which provides a footprint, tread and compound for longer tread life) will prove it means business when you hit the road. It also includes General's DuraGen construction for better handling and to keep the tread wearing evenly.
General Grabber HD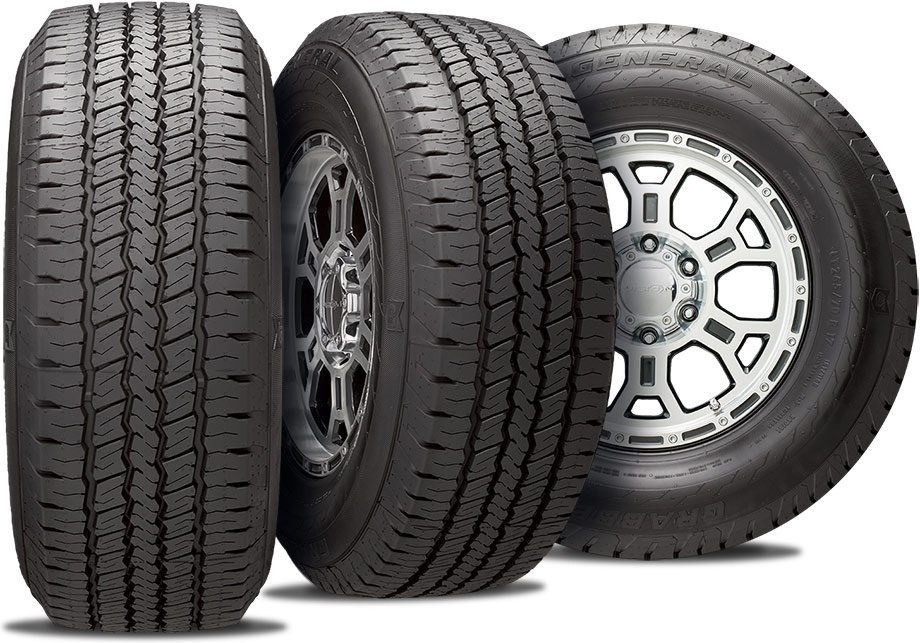 If the highway is where you drive your truck, consider the General Grabber HD. This all-season highway tire is great for rainy areas as it is designed to resist hydroplaning.
If it gets too cold, the tread is siped to bite the road amid snow or ice. Also designed with General's DuraGen technology, you'll be stable on the road with dependably even treadwear.
General Grabber HTS60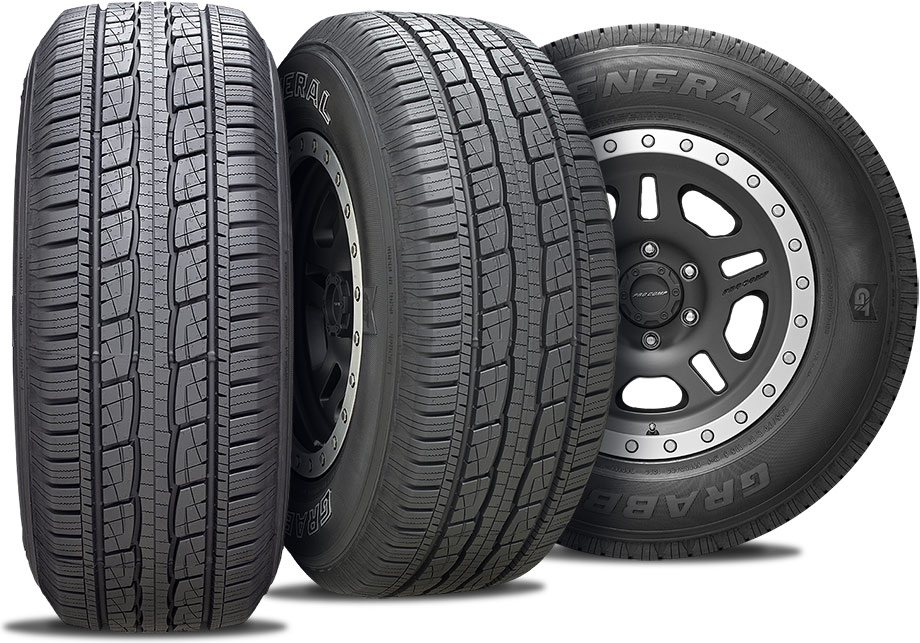 Also an all-season highway tire, the General Grabber HTS60 delivers a comfortable ride via its cushioned absorption layer, similar to the Grabber APT. But at its heart, it is more of a brother to the Grabber HD, ready to take on the open road, even under unfavorable weather. Plus, it has a 50,000- to 65,000-mile limited warranty from General, so you can expect a nice long tread life.
General Grabber UHP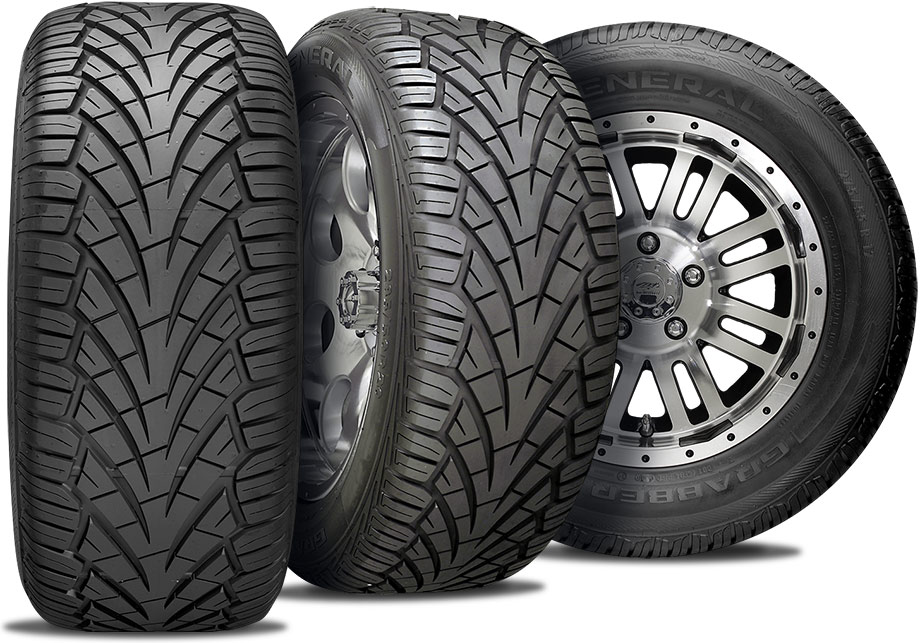 If your truck or SUV is built for speed and performance, check out the General Grabber UHP. This sport truck tire is constructed for high speeds with twin steel belts and a directional tread and will enable your truck to handle and corner more like a sports car. If it's raining, the v-shaped grooves will quickly get the water out of the way and keep your tricked-out truck on the road.
General Grabber ATX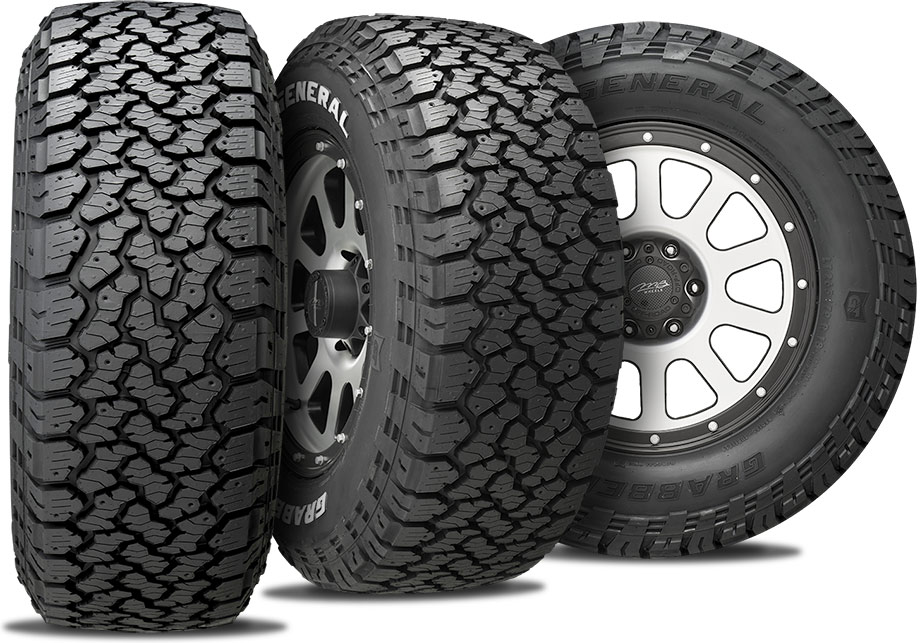 Moving over to the all-terrain options, let's get aggressive with the General Grabber ATX. This tire is a great blend of many of General's technological features.
Starting with its DuraGen construction, you know it's built to last. Then it is reinforced to ensure it can handle high speeds. Add to that alternating shoulder scoops and sidewall protection lugs to make it as dependable off the road as it is in your neighborhood.
General Grabber AT2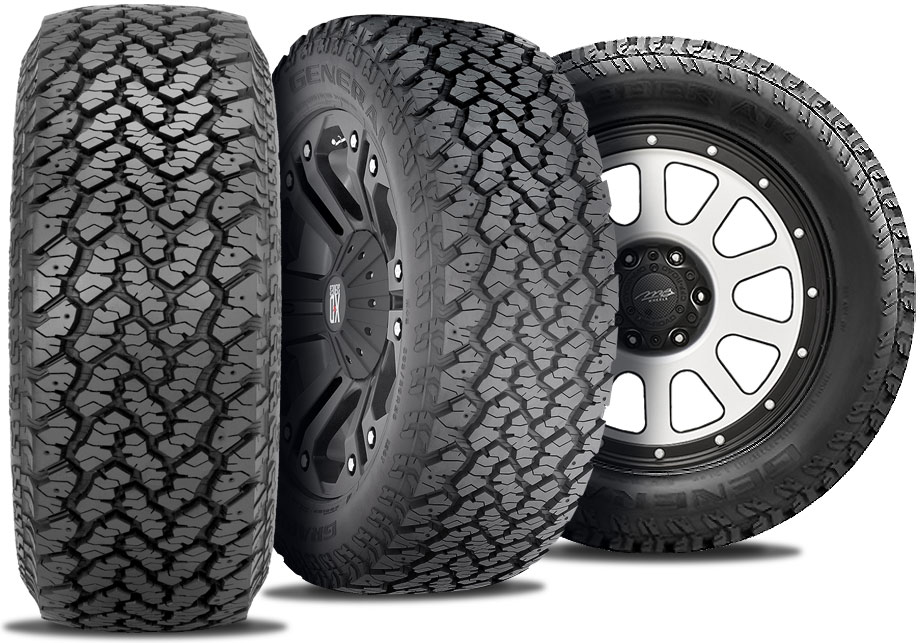 Staying on the all-terrain tip, the General Grabber AT2 is a versatile tire with added features for on- and off-road use. It has a unique 5-row tread pattern for increased traction in just about any terrain. Further, this tread is optimized to reduce road noise when you aren't on the trails.
It also incorporates General's DuraGen technology for superb durability. And when winter hits, the tread is studdable to deal with particularly icy roads and other winter perils.
General Grabber X3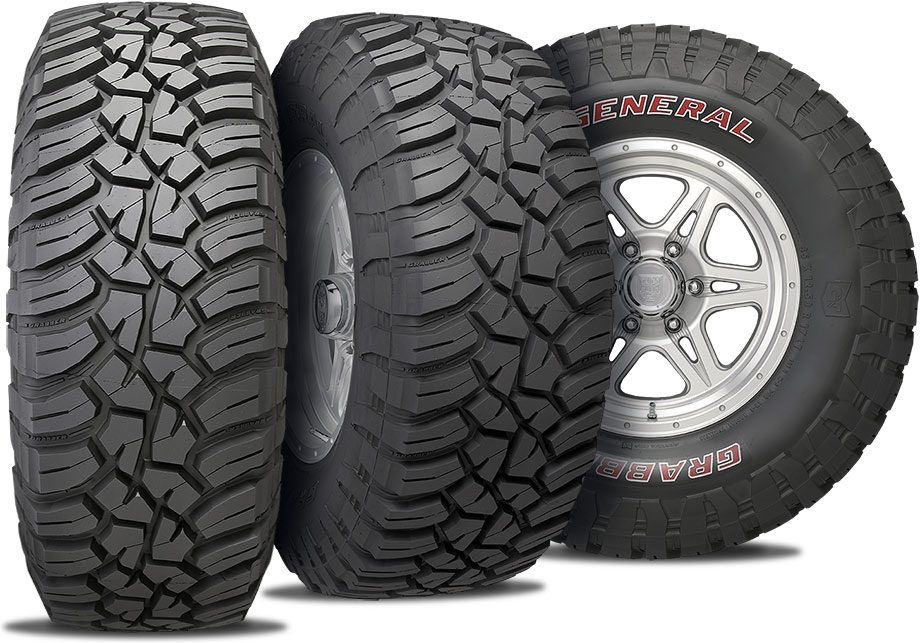 To cap off our exploration of all the Grabber lines, we're going to dig into the mud with the General Grabber X3. This mud terrain tire is specifically for off-road vehicles and has a unique flair with its red-letter sidewall.
Like its all-terrain and highway counterparts, it incorporates General's DuraGen construction methods. It's a beefy tire that allows you to be bold in your 4x4 with its sidewall protection lugs, stone bumpers and open tread design.
Grab the General Grabber at Discount Tire
If one of these Grabber tires looks like the right fit for your vehicle, Discount Tire is ready to get you taken care of. Have more questions? Call or stop by your nearest store for more info today!