Winter tire and wheel packages – our picks by vehicle
By: Discount Tire

Winter driving. Some fear it. Some hate it. Others don't even know what to expect. But what if we told you there's a simple way to make it an afterthought?
If you reached this page you're likely already deep in your journey on researching winter tires and wheels. That's good! The most important part of not only surviving but thriving on snowy and icy road conditions is admitting you might not know what you're getting yourself into.
That's why we're compiling some solid winter tire and wheel choices right here, based specifically on your vehicle type.
Winter tires are generally more extreme in their design, with blocky tread patterns and chemical compounds to break down ice and snow while on the road. It's a marvel in engineering, all with the intention of being the right tools for the job. While safety should be your primary concern, there's the question of changeover, studs vs. studless and much more.
In addition to a set of new tires, you'll also want to consider a second set of winter wheels if you want to protect your current aftermarket or OE wheels from road salt and damage this winter. To this end, many go with traditional steel wheels for a no-frills, no-worry winter wheel/tire package.
We know researching winter tires and wheels can get overwhelming, so we put together a list of some winter wheels and tires that you can package up all in one go.
Winter Tire and Wheel Packages:
Pickup truck: Bridgestone Blizzak DM-V2/MB Wheels Legacy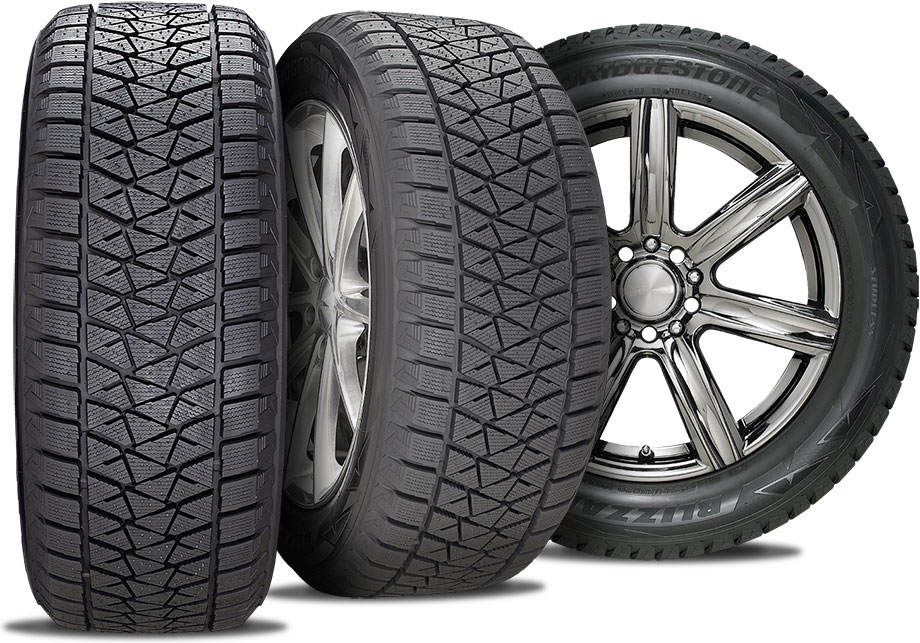 Bridgestone's Blizzak family of winter tires is well known for its quality and popularity. Suited from many vehicle types, we're highlighting the Bridgestone Blizzak DM-V2 here for use on pickup trucks in particular.
But why?
The Blizzak DM-V2 has a proprietary multi-cell compound that removes water from under the tire surface in order to provide strong braking on wet and icy roads. Its aggressive block pattern allows the tire to "bite" through the snow in order to make contact with the roadway itself. On a set of DM-V2s, you'll see in a cinch why these are some of the best winter tires out there for your pickup truck.
For a strong winter truck wheel pairing, consider combining with the MB Wheels Legacy. Known for its strength and durability on the road, it's machined finish has a clear coat to protect it from any road clearing chemicals. The Legacy is our more popular (and a Discount Tire exclusive) selection for a truck wheel that won't leave your wallet taking too big of a hit.
SUV and Crossover(CUV): Michelin X-Ice Xi3/Vision Cross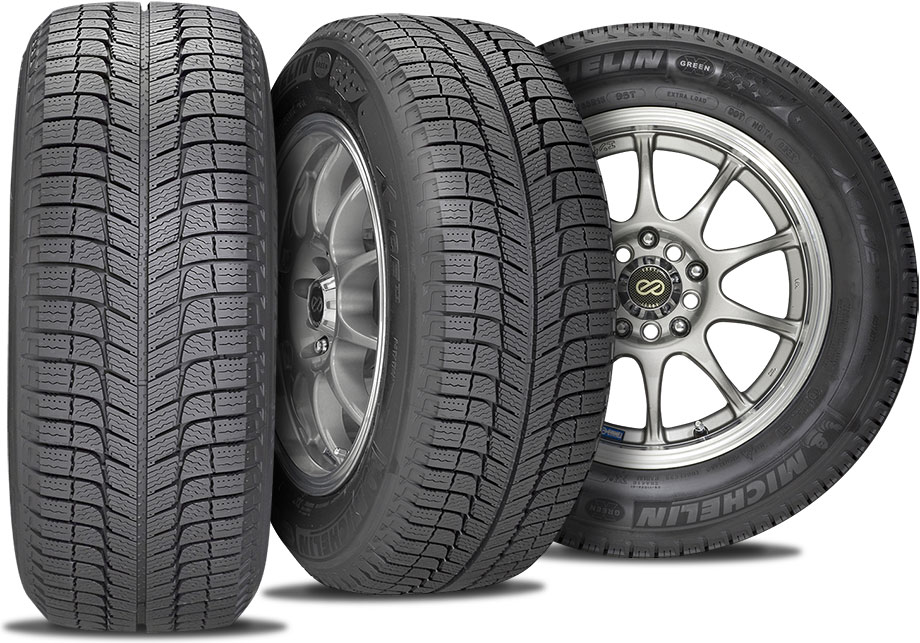 Suited for any SUV or compact crossover, the Michelin X-Ice Xi3 doesn't sacrifice on performance or tread life. The X-Ice Xi3 is a third-generation studless winter tire that's both long-lasting and reliable.
This tire is known for maintaining its great traction and smooth ride all winter long while potentially even increasing your fuel economy. Michelin is a highly trusted name in the industry, so you can bet the X-Ice Xi3 delivers on quality and confident handling over its 40,000-mile warranty.
If you're looking for a winter wheel suited for an SUV or crossover, we recommend either the Vision Cross 1 or Vision Cross 2. These add an elegant look and style to your winter tires while also accompanying the Xi3's performance.
Sedan/Wagon: Nokian Hakkapelitta 8/Liquid Metal Atom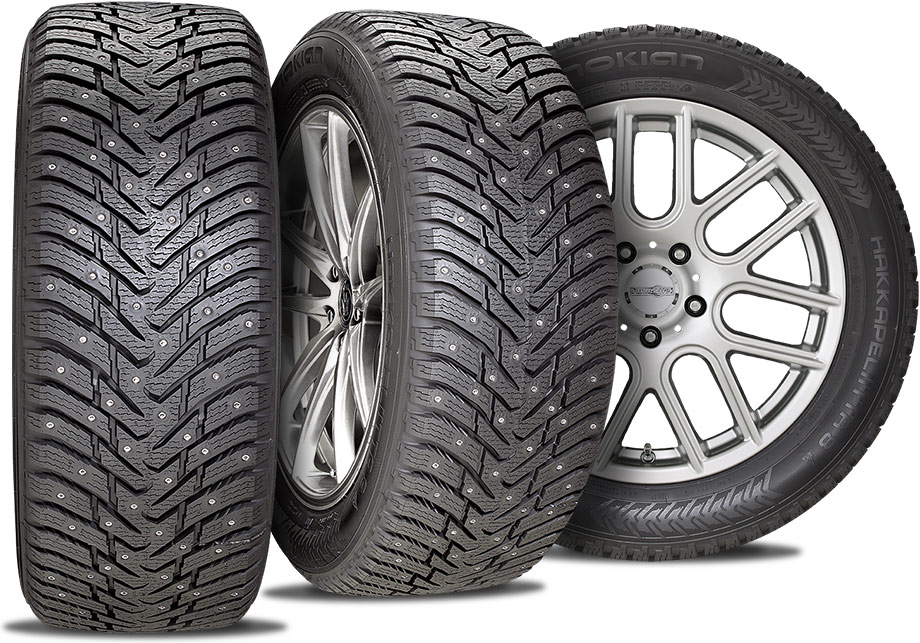 A Discount Tire exclusive, the Nokian Hakkapelitta 8 is engineered for the harshest winters of Northern Europe—and is also one of the best winter tires we carry. The Hakkapelitta 8 is suited for sedans and wagons of all levels of price and power (and also offers the Hakkapelitta 8 SUV for larger vehicles).
Available both studdable or studded, the Hakkapelitta 8 features a saw-toothed tread block and enhanced winter tread compound that delivers grip and responsive handling in slush, snow and temperatures below 45 degrees. Make no mistake; if you're looking to venture out or you have to commute in tough winter weather the Hakkapelitta 8 has you covered.
For a strong wheel pairing, combine with Liquid Metal Atom wheel. The Atom is one of the more popular choices for winter wheels because of its no-frills design and overall durability. In fact, most people really only need a basic steel wheel like the Liquid Metal Atom for the wintertime since any set of wheels you run are going to get blasted by road salt and the other chemicals used to keep the roads clear this winter.
Sports car: Pirelli Winter 240 SottoZero S2/Vöxx Replica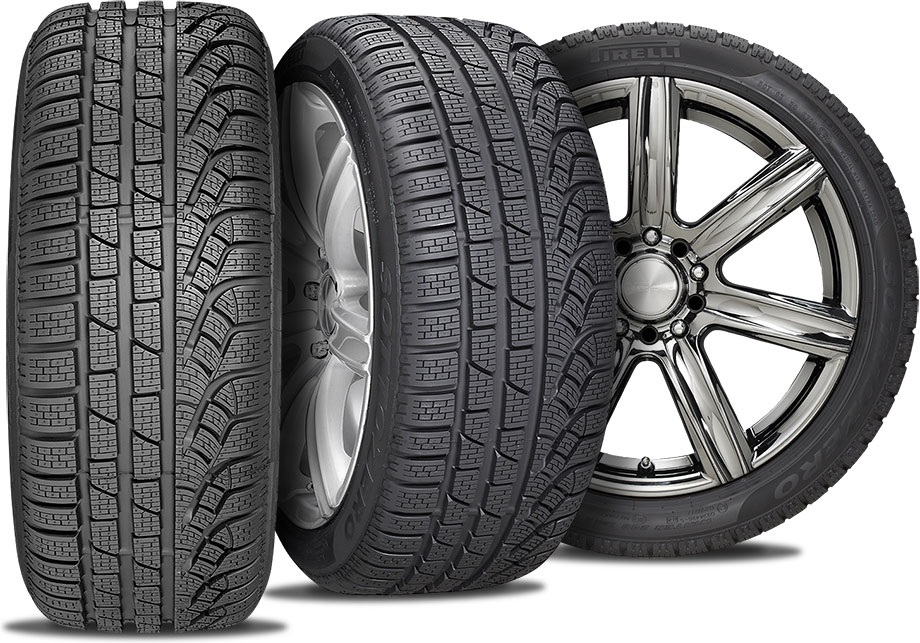 For a winter tire that packs in peak performance, look no further than the Pirelli Winter 240 SottoZero S2. A good example of the increasingly popular high performance winter tire segment, the Winter 240 SottoZero S2 was designed for sports cars and high-end performance vehicles.
These Pirellis can improve your overall winter driving confidence via their patented sipe layout, which increases the tire's rigidity and ultimately improves grip, stability and braking. On top of that, its inclined internal grooves and external circumferential grooves work to reduce noise and remove water from the tread area. Make no mistake, if you're looking for confidence and grip in your high-powered vehicle, the Pirelli Winter 240 SottoZero S2 has you covered.
When searching for a good winter wheel, we recommend a set of Vöxx replica wheels (if there's an option for your vehicle). The finish on your wheels can easily be ruined in harsh winter conditions, and if you want to preserve your OE or aftermarket wheels, a replica wheel will have the level of quality you expect.
Read more about Vöxx replica wheels!
Does the perfect winter tire and wheel package exist?
There's no limit to the amount of winter tire and wheel packages to choose from. When it's time to switch over to winter tires, consider one of the winter tire and wheel combinations above or build your own.
For any winter tire you can also add extra backup to your vehicle by adding Certificates to your order.
Our tire Certificate program is a cost-effective way to guarantee a repair, refund or replacement should anything happen to your winter tires down to 3/32" of their tread—with no limit on the amount of time or miles that our Certificates cover.
(By doing so, you could potentially have your winter tires covered for the better part of a decade since they're only used for roughly one quarter of the year!)
Winter tire changeovers can seem like a pain, but Discount Tire is here to make the process as simple and straightforward as possible. Our number one priority is your safety on the road this winter, so stop by any of our 1000-plus locations today and we'll get you taken care of.