Black Rims & Wheels
It doesn't matter what you drive: black rims are the upgrade of upgrades.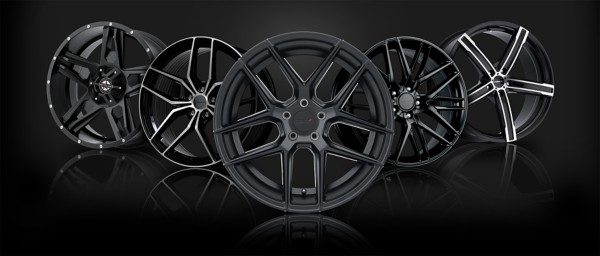 Looking to level-up your off-roader with some black truck rims? Or maybe you're dialing in your sports car for looks and performance? From black 20 inch rims to any other popular size, black wheels are an easy way to swap out the look of your stock wheels for a little more style and substance.

When it comes to making the ultimate style upgrade that has serious performance potential, we have the black rims you're looking for.
Black Truck Rims
If you're looking for something with rugged off-road design and the durability you need for the rough stuff, our huge selection of black off-road wheels includes the hottest black truck rims out there.
Whether you're rock crawling, running baja, mudding or overlanding, it's your chance to show everyone what you're about when your external spare black truck wheel matches up with what you're running on your rig.
We have popular 17 inch black truck rims and black 20-inch truck rims that provide a killer combo of looks and  on-road smoothness.
Check out our truck rims and try out our wheel visualizer, where you can match up your truck and its paint with the exact black rims you're looking at.
Black Car Rims
Most enthusiasts know that the easiest and most noticeable upgrade to your vehicle is a new set of wheels. It just so happens that very few mods up the curbside appeal of a streetcar than a set of black rims.
Take black BMW rims as an example. You can find lightweight, rotary-forged options like the Beyern Antler that are going to look great and offer a significant reduction in weight and rolling resistance. Plus, you can still drop your BMW center cap in there to maintain its OE look.
But don't take our word for it, try our wheel visualizer to see how great black rims look on your car and check out our entire selection of black wheels, or even build your own custom black rim and tire package.
When you find what you're looking for, feel free to make an appointment or drop by your nearest location; we can get your vehicle all set up and dialed-in. 
(And if there's a specific black wheel you can't find on our website, our stores can get just about any size, brand and style of black rim out there at unbeatable prices!)