Goodyear Assurance – buyer's guide
By: Discount Tire


What most drivers want are all-season tires.
And for good reason. They tend to be low-maintenance, long-lasting and they're designed and constructed to safely get you where you need to go despite changing weather conditions. And for folks looking for an American tire brand well-known for reliability, a top choice is Goodyear.
Goodyear is a truly American company, founded and headquartered in Akron, Ohio—the world's rubber capital. As a leading tire manufacturer for over 120 years, they have put decades of research and design experience into all-season tires, including the Assurance family.
The Goodyear Assurance family of all-season tires for cars and crossovers has been in production since the early 2000s. As its name implies, Assurance provides peace of mind on the road due to the versatile ways it handles rain, slush, sleet and even light snow.
Let's take a look at the specific lines, what makes them different, and the features that stand out to help you decide which Goodyear Assurance tire is right for your vehicle.
Goodyear Assurance A/S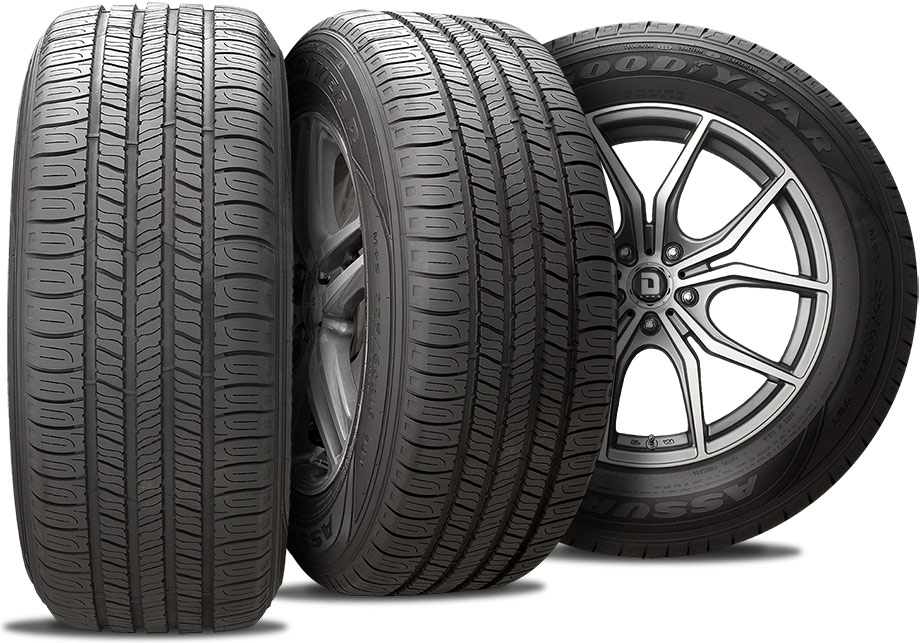 We'll start with the basic (and most affordable) model, the Goodyear Assurance A/S. Its tread is full of bite with grooves that evacuate water or slush when roads are wet, and Assurance A/S has large shoulder blocks that provide direct and predictable steering input on dry surfaces. To top it off, it was also designed to keep quiet on the road.
You can count on the Assurance A/S to last, with a 65,000-mile limited manufacturer warranty from Goodyear.
Goodyear Assurance ComforTred Touring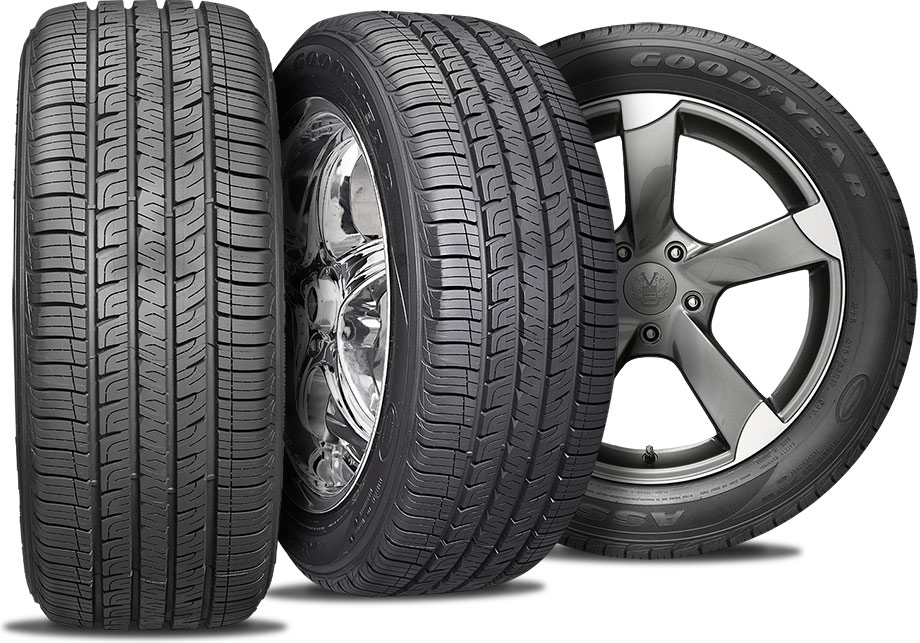 Take all the great features of the Assurance A/S, then make it the smoothest, quietest riding tire in its class and you have the Goodyear Assurance ComforTred Touring.
This cushiony tire adds what Goodyear refers to as a "comfort layer" in the tread and "ComfortEdge" sidewalls to combine good handling features with the soft ride it promotes. Another step up from the Assurance A/S is its warranty: 80,000 miles for the ComforTred Touring.
(Also available in limited sizes is the original Goodyear Assurance ComforTred, the design the ComforTred Touring was based on.)
Goodyear Assurance Fuel Max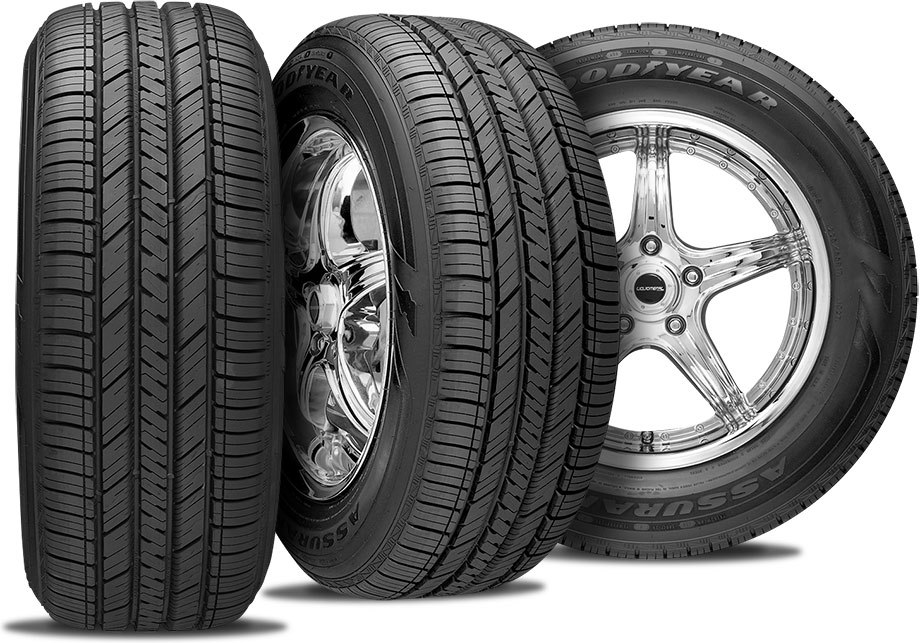 If you're looking for the best in all-season performance plus savings at the fuel pump, check out the Goodyear Assurance Fuel Max.
Aside from reliable wet and dry traction, this Assurance tire was designed to promote low rolling resistance, which reduces the energy required from your drivetrain and ultimately could save over 2,500 miles worth of gasoline over the life of your set. Priced just above the Assurance A/S, the Fuel Max is an all-around economical choice.
Goodyear Assurance CS Fuel Max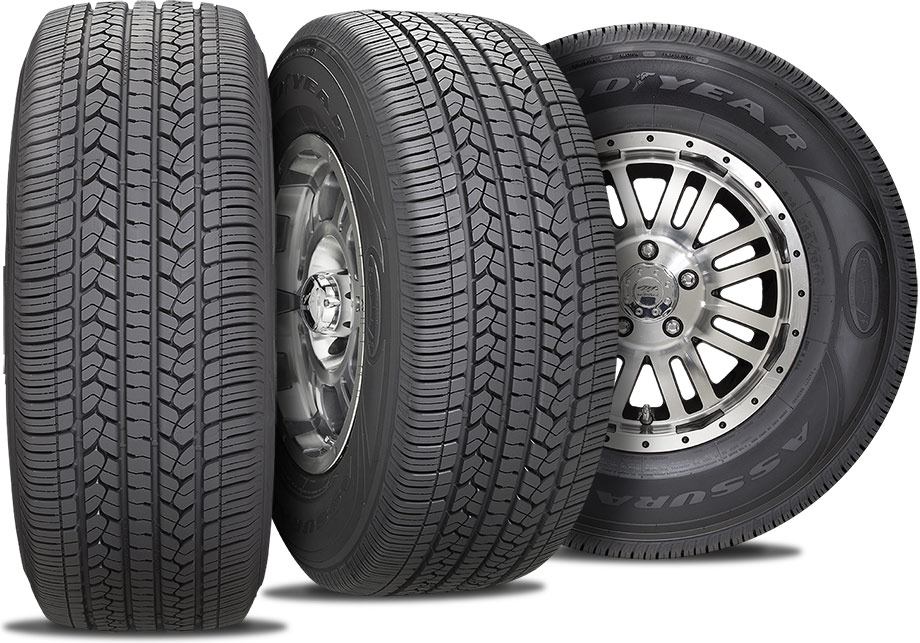 Much like the standard Fuel Max, the Goodyear Assurance CS Fuel Max offers savings at the pump, but is built specifically for crossovers, trucks and SUVs.
And just like the Assurance A/S and standard Fuel Max, you can count on Goodyear's 65,000-mile warranty. (Just keep in mind that this tire is not for off-roading. If you're looking for Goodyear truck tires with off-road capabilities, consult our Goodyear Wrangler buyer's guide.)
Goodyear Assurance MaxLife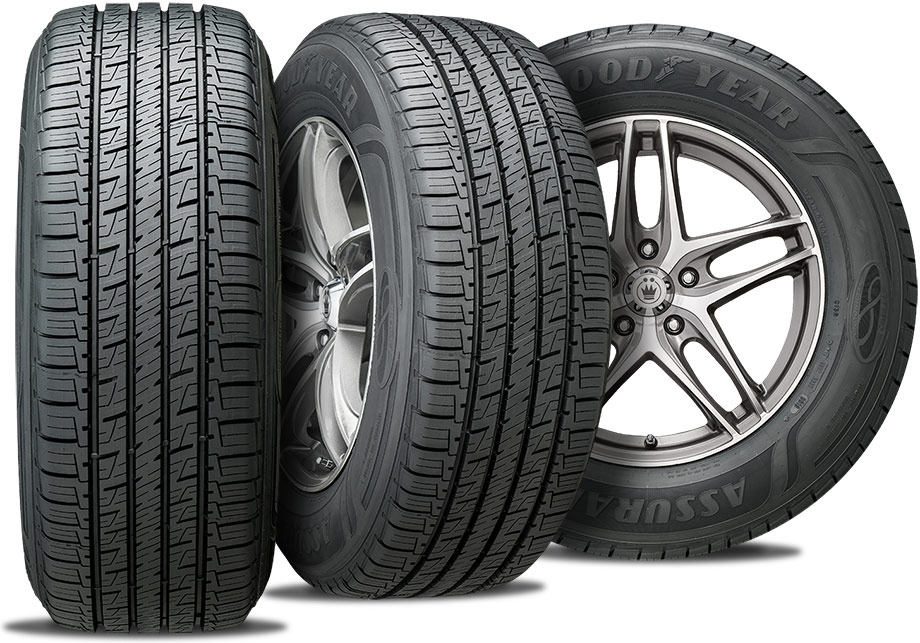 If you want to get as many miles out of a tire as possible, the Goodyear Assurance MaxLife is for you.
The MaxLife features Goodyear's TredLife technology, which prolongs the wear of this tire to exceptional lengths while maintaining the other all-season features of the Assurance A/S. With an impressive 85,000-mile limited warranty, you'll get more miles per dollar spent and save money over the long-term.
And just to be on the safe side, Goodyear also includes their easy-to-read, built-in wear gauges (green, yellow, and red bars) that clearly show when it's time for a replacement.
Goodyear Assurance WeatherReady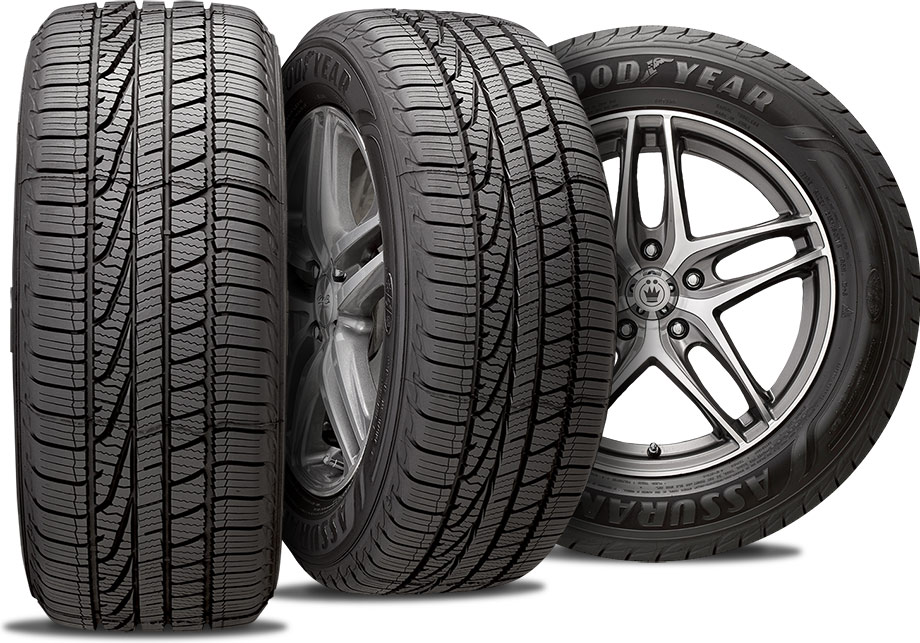 For the ultimate in preparedness, we present the Goodyear Assurance WeatherReady. This tire is an early arrival in the emerging group of tires known as "all-weather." These are several steps above all-season tires in that they can perform across all temperatures—including the extreme cold of winter weather conditions.
Not convinced? Thanks to specialized tread compounds and designs to handle different weather, the Assurance WeatherReady carries the designation for severe snow: the three-peak mountain snowflake symbol. This means they're certified to stay pliable and keep their grip on snow-covered streets just as easily as in the rain or the hot summer sun.
Goodyear refers to these incorporated designs as "Weather Reactive" technology combined with "Evolving Traction Grooves with Tredlock." We refer to it as year-round safety.
If you live in a region that sees regular snow that the plows just can't keep up with, you can count on Assurance WeatherReady to get you around your town and beyond.
Rest assured: get Goodyear Assurance tires at Discount Tire
If you're looking for a reliable all-season tire for your vehicle, Goodyear's family of Assurance tires has a model to meet your specific needs.
If you have questions about a specific Assurance (or any Goodyear tire), we're happy to help. Just call or stop by your neighborhood Discount Tire store today.