The Best Tires for College Students
By: Discount Tire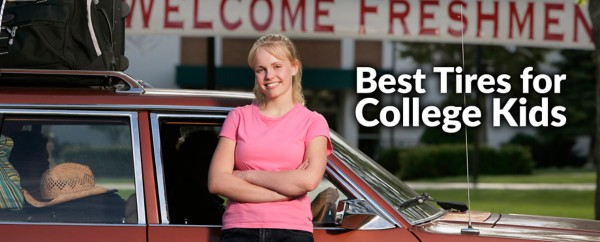 You've got your books and backpack, your laptop and your charger. Your class schedule is air tight and you're ready to show this semester who's boss. But before you leap into your studies, is your ride as ready for the semester as you are?
No matter whether you're rolling on a money-saving beater from an era when your parents still had good music taste (Nirvana on cassette? Sounds like the perfect soundtrack for a post-midterm road trip!) it's best to make sure your tires are up for whatever homework (or should we say roadwork?) you assign it.
Because there are so many different vehicle options for the modern scholar, we'll go ahead and give our recommendations for your tires based on some of the more common vehicle types out there that college students seem to drive—with your safety and budget at the top of our priority list.
CUV/Crossover Tires

Midsize CUVs boast decent gas mileage and turning radius while providing more cargo space and legroom. They're also still small enough that they're convenient to drive around the smaller campus roads and won't prove to be a nuisance when you have to deal with trying to find a parking spot in crowded (and overpriced) school parking lots.
In this situation, you're probably after reliable all-season performance and comfortable ride quality for those weekend road trips—all backed up by a long-lasting tread life. For those reasons, we recommend the following CUV tires for the average college student:
Compact Sedan Tires
Small sedans are great for the cramped campus life, and their fuel-efficiency and short turning radius can also mean they're economical and pretty cheap to keep running, on top of being fun to drive. 
Take a look around the next time you're on campus and you're going to see a good number of Honda Civics, Toyota Corollas, Mazda 3s, etc. So whether you live on or off campus, be sure your car has the right tires for your needs—especially if your future alma-mater gets snow!
With a focus on reliability, tread life and normal everyday driving habits, these are the tires we recommend:
Hybrid Tires
Designed for the best possible fuel efficiency, hybrids are great for those especially broke college kids that are trying to save money at the pump. (College is expensive, we know.) 
If you're the type of driver who likes the reliability and wallet-wise ways of a hybrid, it's likely that you're in need of tires that place an emphasis on longevity, all-season performance and fuel-efficiency. With that in mind, these are the top three tires that Treadwell recommends so you can ace your campus cruising:
As a college student, one of the last things on your mind is your tires. That's where we come in. 

We're here to get you back on the road no matter what you drive, and offer a number of free tire maintenance services from one of our locations (many of which are close to major college campuses across the country).


For more information on this and other tire and wheel services, check out our YouTube Channel or reach out to us on Twitter, Facebook and Instagram.