What are the best tires for Colorado?
By: Discount Tire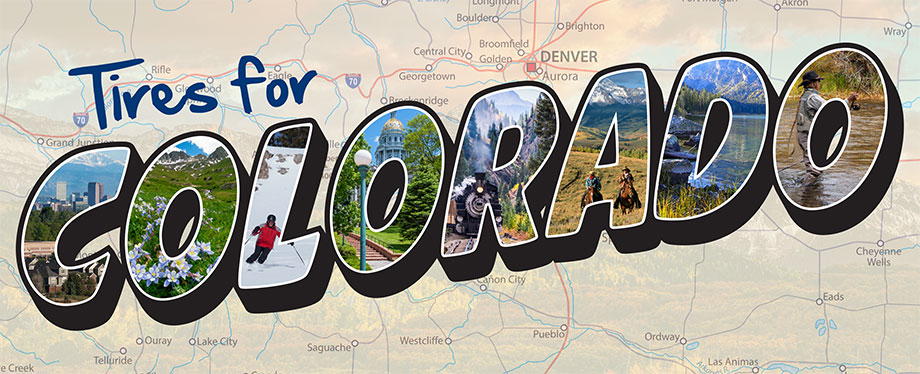 Discount Tire locations in Colorado: 51 (and counting)
First Colorado location opening year: 1980
Common vehicles: Toyota 4Runners, Subarus, pickup trucks, hybrids
Major regions: Denver, Aurora, Lakewood, Boulder, Colorado Springs, Durango, Fort Collins, Pueblo, Thornton
Road conditions: Ice, snow, slush, hail, rain, dirt trails, random 100-degree heat
For an increasing number of Americans, Colorado presents the chance to experience the natural splendor of the outdoors combined with the advantages of big-city living.
Chances are you even know of someone who recently moved to Colorado. If you don't believe the hype, try telling that to some 670,000 people who made up a 13.2% population increase in Colorado residents from 2010 to 2018.
And if you've driven around the Denver-area during rush hour you know that traffic is getting about as bad there as it is in other densely populated metros in the country. What this also means is a sharp uptick in the amount of vehicles on Colorado's roads and highways.
According to the Federal Highway Administration, there are now well over 5-million vehicles registered in Colorado. With a population of around 5.7 million, it's easy to see how everything from the freeways throughout the Front Range on out to the mountain roads that lead to your favorite ski slope more often than not are filled with the view of brake lights as much as they are the picturesque vistas of the Rocky Mountains.
But what if we told you these situations offer some important things to look for in how you shop for tires as a resident of Colorado?
Best car tires for Colorado
For starters, you need to be able to stop on a dime no matter what the road conditions are. From stop and go traffic to blizzards and black ice, we're providing the following recommendations for Coloradoans who want to spend more time where they're trying to go rather than sidelined by ice (or even damage from a pothole).
It might be the land of the Subaru, but even all-wheel drive won't save you from ice and snow if you don't have the right rubber on your ride.
(To be fair we also see fifth-gen Toyota 4Runners almost everywhere we go in Colorado these days too.)
No matter what you drive, you probably want to keep it from skidding into the other vehicles or inanimate objects around you the next time it snows in Colorado.
For the more commuter-type of vehicle such as your garden variety subcompact or hybrid, there are some decent all-season tires currently available—but you should never expect that your OE tires are going to be substantial enough for the bizarre weather conditions Colorado frequently sees. Especially not during winter.
In fact, the type of low-rolling resistance tires that Priuses in particular come with are downright dangerous when the temperature drops. Not only are your stopping distances exponentially lengthened, but you may not even be able to make it up certain snowy or icy inclines at all.
However, there's a newer class of tires for these models that could be worth considering.
Called "all weather tires," they maintain traction and stopping distance performance in winter temperatures without necessitating the changeover to summer rubber (and then all over again).
The Nokian WR G3, BFGoodrich Advantage T/A Sport (and BFGoodrich Advantage T/A Sport LT for SUVs and crossovers) are all great options if you don't want to have to sacrifice confidence or convenience for your commute through Colorado or the Denver metro.
Best truck/SUV tires for Colorado
If you drive a truck or SUV, your options might be a little more or less complex.
A lot of Coloradoans opt for the more traditional all-terrain type of tire, be it the ever-popular BFGoodrich All-Terrain T/A KO2 or another LT option that's 3-Peak Mountain Snowflake-certified (which means that it exceeds the Rubber Manufacturer's Association requirements for Severe Snow Traction).
Not only will this type of tire be great for your summer adventures off-road, but it should prove to be capable enough for the odd snowstorm when combined with your truck's 4-wheel drive.
When to put on snow tires in Colorado
No matter what you drive, you can have the best of both worlds if you have the space and time.
By equipping winter tires on a set of steel wheels and then running a more aggressive summer tire or performance all season during the months Colorado doesn't get snow, you can effectively drive anything in the Centennial State.
If there's one thing that's true of buying tires in parts of the world that get snow, it's that even the most expensive all-season is no match for even the worst dedicated snow tire. In fact, if you look at it from the standpoint of potentially saving you and time and money on repairs should you get in an accident, switching between winter and summer, all-season or touring tires is probably the biggest no-brainer of all when it comes to shopping for tires in any region of Colorado.
For those of you who also want to protect your stock or custom wheels from damage from road salt or chemicals in the winter, this is a great option. There are plenty of staggered sizes for snow tires as well, which means you won't have to garage your sports car all winter if you don't want to.
Dedicated winter tires can also dramatically augment the capabilities of your all-wheel drive vehicle in slush, ice, snow, or even in temperatures below 45-degrees when many other tires begin to lose traction in a noticeable way.
By the way, if you live in Colorado and are wondering when to put snow tires on your vehicle, the answer is the first week that temperatures are projected to dip below 45-degrees during your commute.
At the end of the day it really all depends on what you're in to and where you're trying to go in Colorado. Once you have that figured out, one of our 50-plus stores in the state can help you figure out the best tires for you!
In the meantime, feel welcome to check out our tire and wheel-related info if you're trying to learn more about maintenance, and find your closest Discount Tire shop in Colorado where we'll get all of your tire needs taken care of!