What are the best tires for Illinois?
By: Discount Tire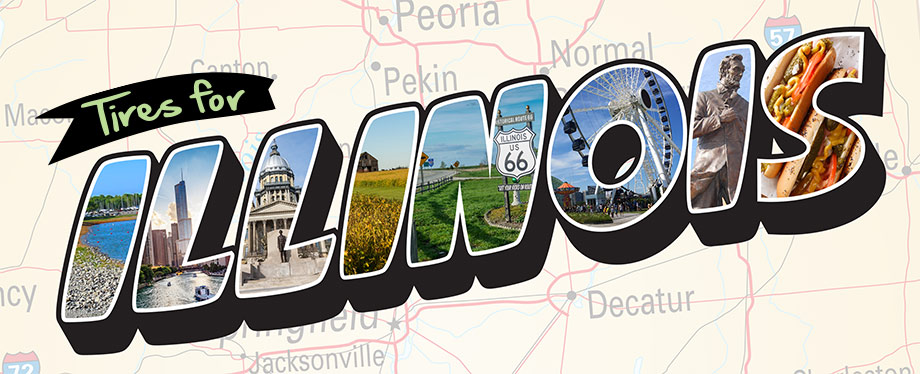 Discount Tire locations in Illinois: 34 (and counting)
First Illinois location opening year: 1995
Common vehicles: Sedans, crossovers, SUVs
Major regions: Chicago, Springfield, Peoria, Aurora, Joliet, Naperville
Road conditions: Blizzards, snow, slush, ice, rain, summertime humidity
Illinois. Love it or hate it, in many respects it's the unofficial capital of the Midwestern U.S. From the rolling farmland of its interior to the skyscrapers of downtown Chicago, there's something for every speed of life in the Land of Lincoln.
But you're here because you want to know what the best tires are for driving, commuting, working, living in and otherwise exploring Illinois.
From its brutal winters due to the wind-chill off of Lake Michigan to the sticky summers full of construction and sticky asphalt, the fact of the matter is that residents of Illinois put a lot of pressure (no pun intended) on their tires while expecting reliable performance under all of these driving conditions.
Most popular truck/SUV tire for Illinois
Our data shows that the most sought-after tire in the state of Illinois is the Michelin Defender LTX M/S—and for good reason. It's one of the best dedicated truck/SUV tires out there, and can handle the ice and snow of a Illinois winter as well as it can rainy roads or dry and clear freeways.
Longwearing and backed by a 70,000-mile manufacturer warranty, the Defender LTX M/S might actually be the perfect tire for pickup truck and SUV drivers in Illinois.
Most popular car tire for Illinois
There are a ton of features packed into the Goodyear Assurance WeatherReady, which our data shows is the most-searched-for of all of our all-season tires in IL. With the properties of an all-weather tire, it can handle heavy rain, snow and ice due to its three-peak mountain/snowflake certification while maintaining a confident and comfortable ride in the summer months.
Perfect for drivers of sedans, subcompact and hybrid cars who don't want to have to deal with a second set of winter tires, this might just be the perfect tire for your commute into Chicago or around the Prairie State.
All-terrain tires
Our data backs the BFGoodrich All-Terrain T/A KO2 as the most-sought-after all-terrain tire by the denizens of Illinois. The Goodyear Wrangler Duratrac and Falken Wildpeak A/T3W round out an overall top-3 for all-terrain tires in Illinois.
If you drive a truck or SUV of any kind and are looking for rugged looks and the chops to back up their aggressive appearance, any of these tires are great choices when your favorite trail or camping spot is calling.
Winter tires
The Michelin X-ICE xi3 is our most in-demand winter tire in all of Illinois, according to our consumer data, followed closely by the Bridgestone Blizzak WS80.
You can't go wrong with either of these if you live in a part of the state that sees whiteout blizzard conditions. They'll protect you, your family, your vehicle and your attendance record from the impact treacherous winter weather has on the roadways of Illinois via the countless hours of research and development these manufacturers have put into the respective features of these two winter tires.
(It's pretty well-acknowledged in the tire industry that running a set of dedicated winter tires is better than even the best all-season or all-terrain tire—but also something to bear in mind if you're looking for supreme winter driving confidence no matter where in Illinois you live.)
Budget-friendly
If you're looking for a set of decent and affordable tires, consider Sentury Touring. This tire is in the top-5 of all searches on discounttire.com in the state of Illinois in 2019.
Exclusive to Discount Tire, the Sentury Touring is dependable, long-lasting, comfortable and predictable come rain or shine. And it's at one of the best price-points in the industry.
Whether you're in Chicago or the countryside, at one of our many locations across Illinois we'll be sure to help you find the right tire for your vehicle. At Discount Tire, we'll get you taken care of!