Michelin Pilot Sport – buyer's guide
By: Discount Tire

For your high performance vehicle to live up to its full potential, tires are a very important consideration. Michelin has been a longtime world leader in developing ultra-high performance tires that can go from the track to the road.
Michelin Pilots are what the winning vehicles have ridden on every year at the 24 Hours of Le Mans since 1998. It's not surprising that Michelin Pilot Sport tires have been and are the choice for original equipment on many sports cars straight from some of the largest auto manufacturers and their performance skunkworks, including such nameplates as the Corvette, Ford Performance, and various exotic models of Ferrari, Porsche, Mercedes-Benz/AMG, BMW and Audi.
Michelin is a perennial all-star in the top tier of tire manufacturers, and they have a standard limited warranty on each Pilot (and all of their other tires) to back up that position. But make no mistake; for the most part, Pilot Sport tires are for summer use on performance vehicles. They're road-legal track tires, so they'll be outstanding on the road (in the right conditions), but their first love is the racetrack.
Let's break down the current variations of Michelin Pilot Sport tires to help you decide which are right for your vehicle.
Pilot Sport All Season 4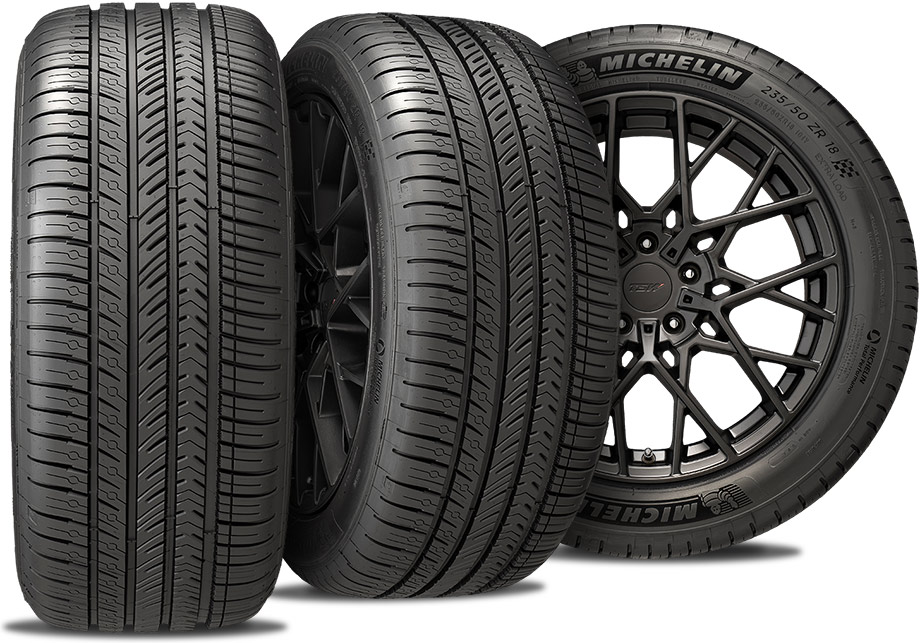 Get to know the newest member of the family, the Michelin Pilot Sport All Season 4, which brings all-season reliability to the top-notch performance of the Michelin Pilot Sport. Depending on where you live, you might feel certain seasons or weather would preclude you from taking your supercar out of the garage. A set of All Season 4 tires could change how you think.
Michelin track-tested this tire against several top competitors' all-season performance models and their tread life came out on top by as much as 29%. And when it comes to weather, it is designed for traction and grip when the weather is wet or dry and the temperatures are at their extremes. These might not be as fun as the solely performance-oriented models we dig into below, but they are definitely the most versatile.
Under Michelin's "Total Performance" ethos, they've truly balanced this tire for long-lasting, excited driving in all seasons. It's no wonder Chevy has chosen it as the first all-season tire for the Corvette.
Pilot Sport 4 S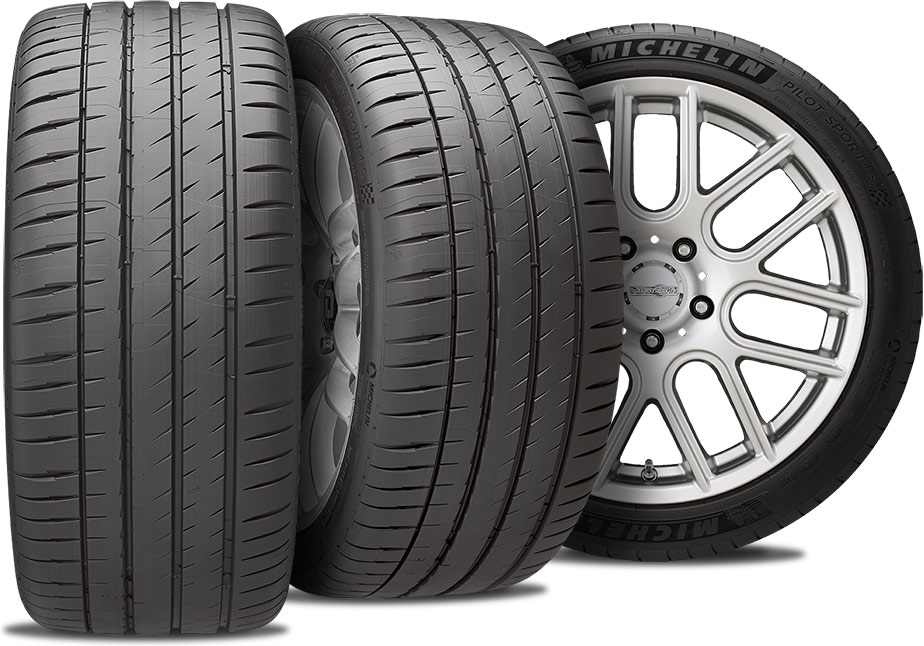 The flagship nameplate of Michelin's performance tire family, the Michelin Pilot Sport 4 S is a first-rate choice combining elements of both the Pilot Sport Cup 2 and the Pilot Super Sport. The name reflects the fourth generation of the Pilot Sport ultra-high performance (UHP) summer tire.
Based on their internal testing, Michelin touts the 4 S as their "Maximum Combined Performance" tire, coming in first in wet and dry lap times and wet and dry braking compared to several other top brands' performance tires.
They chalk this up to their particular blend of patented elastomers and carbon in their Multi-Compound Construction. Compared to another Michelin favorite, the manufacturer expects you'll get 9% better treadlife versus the Pilot Super Sport.
Pilot Super Sport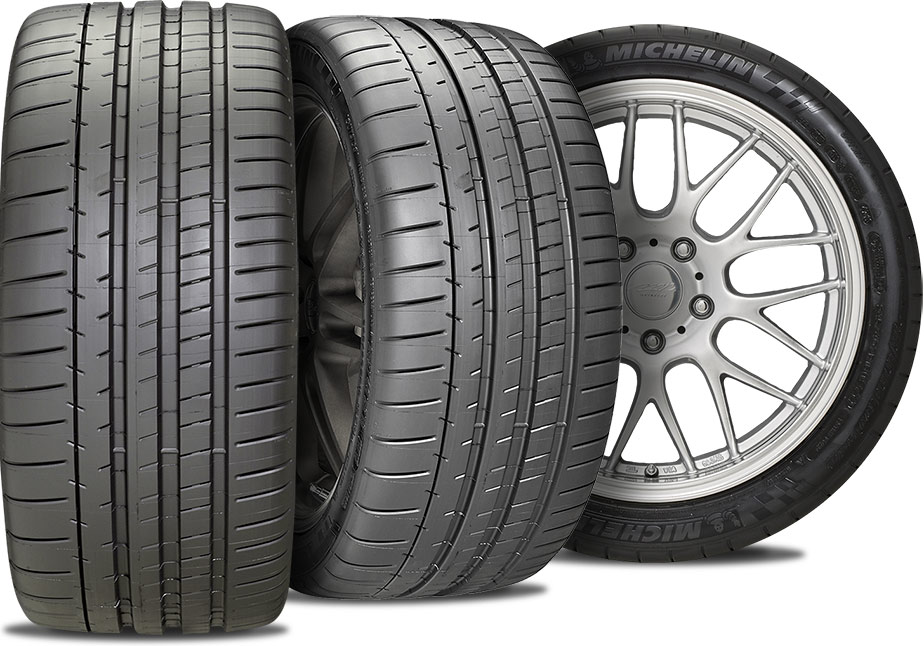 Formerly the jewel of Michelin's Pilot Sport crown, this 4 S predecessor is still popular for many reasons. It has come as the original equipment tire on several high performance vehicles since its debut in 2011 and has many endurance race wins, including the 24 Hours of Le Mans.
Michelin combined some of their special technologies with new design ideas when assembling the Michelin Pilot Super Sport. The tire keeps its shape and rigidity thanks to a high-density Twaron fiber belt. The split of the compounds in the tread design was changed from 50/50 down the middle to the outer 20 percent for dry handling and the inner 80 for wet traction.
Pilot Sport Cup 2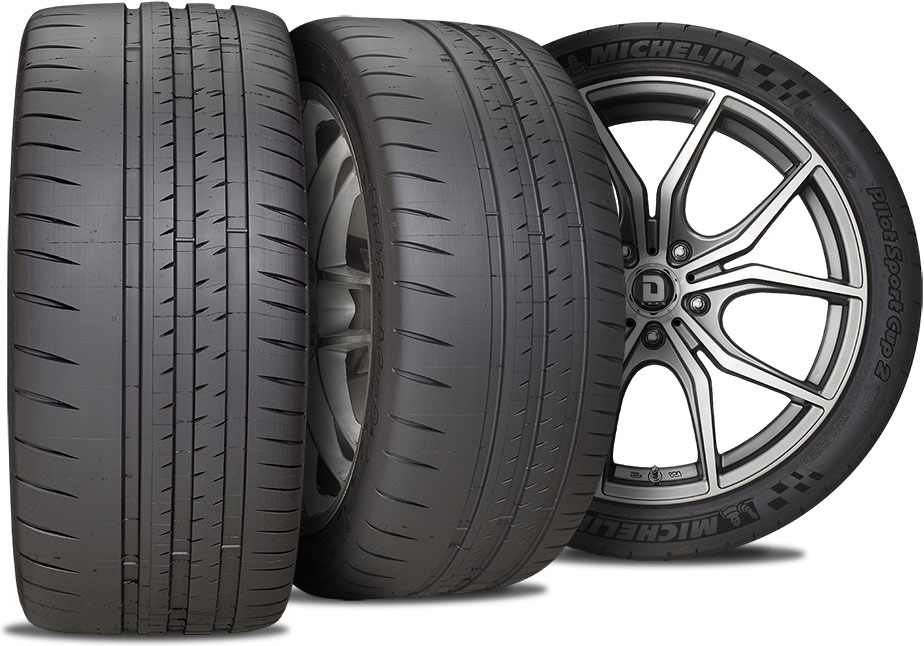 These tires are not built for comfort; they're built for speed, and not recommended for your daily driver (unless you live on a track). The Michelin Pilot Sport Cup 2 was developed in 2013 to be original equipment for the MG SLS Coupe Black Series, Porsche 918 Spyder and 911 GT3, and Ferrari 458 Speciale.
The specific features they aimed to accomplish were faster lap times, consistency from lap to lap, and better grip on wet track surfaces. It has since been original equipment for other models of Porsche, Aston Martin, and Ford performance production vehicles.
Pilot Sport A/S 3 Plus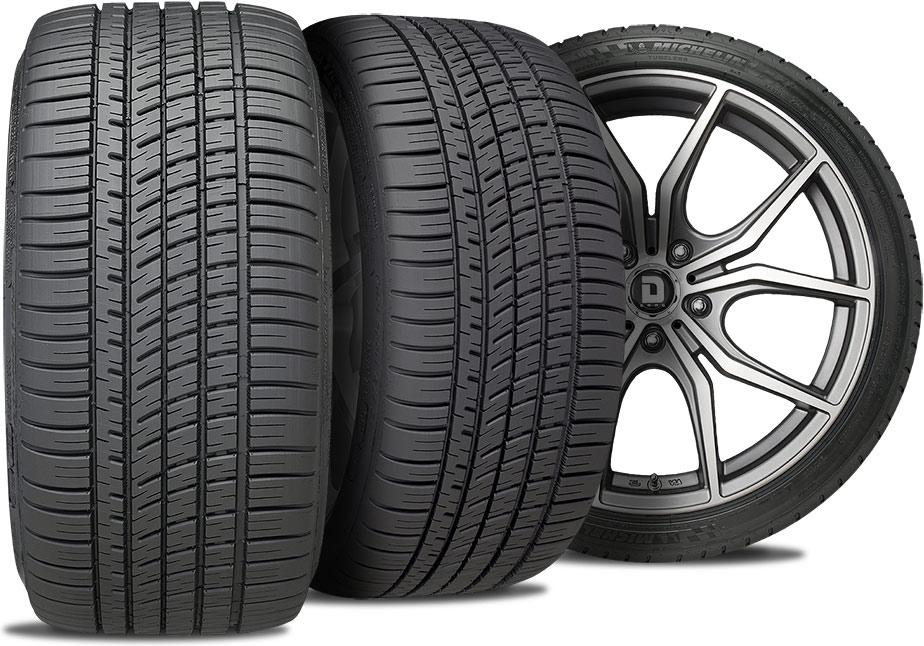 The only other all-season tire examined in this post besides the All Season 4 is the Michelin Pilot Sport A/S 3 Plus. Michelin's goal with this tire was to pack as many of the handling, braking and performance features of other Pilot Sport tires into a more comfortable, fuel efficient tire with a longer wear life (up to 45,000 miles).
Michelin touts they'll stick to the road in cold temperatures thanks to their Helio+ Technology and can even handle ice and snow when absolutely necessary, making this a highly viable high-performance all-season tire for even the sportiest daily driver.
Pilot Sport PS2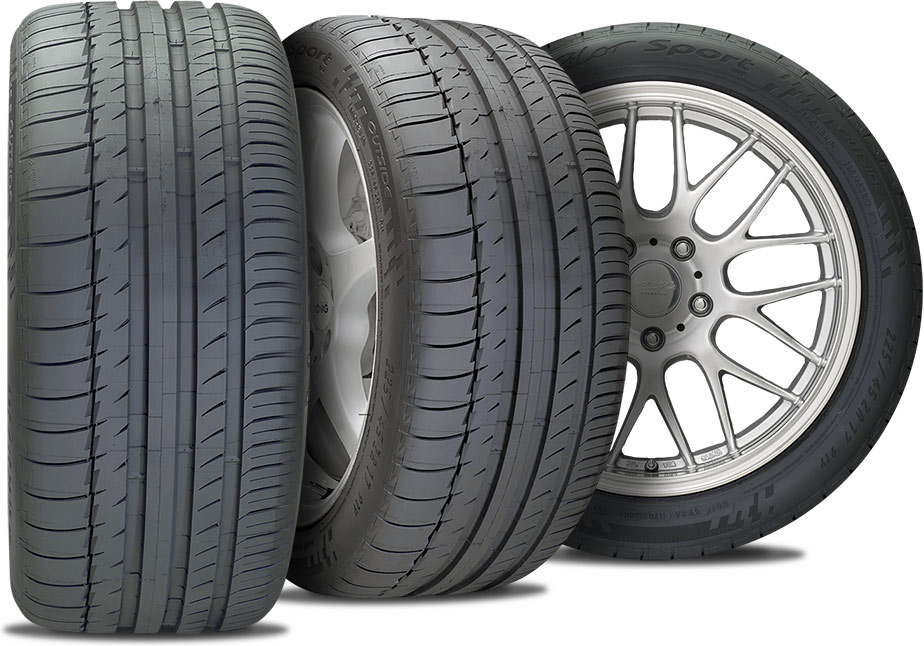 Though an older design, many enthusiasts still swear by the Michelin Pilot Sport PS2. It has excellent performance with adept grip on corners and under braking. Since it has been in production since 2004, the PS2 is less expensive in comparison to other summer Pilot Sport options.
But don't think for a second you're skimping on quality; you'll get a lot of performance for your money. These tires have been trusted as original equipment on over 200 vehicles, including the BMW M3, Porsche 911 and Chevrolet Corvette ZR1.
Crossing the finish line
When Michelin describes any of their Pilot Sport tires, the word they rely on most is "exhilaration." Handling and braking are the primary features, which is exactly what anyone would want when looking for the best tires for a high-powered and nimble performance vehicle.
If your vehicle can deliver a high-performance experience, there's a good chance one of the above Pilot Sport tires is a good match (if it didn't come with them from the factory).
Made your choice? Doing more research? See all Michelin Pilot Sport tires we carry and make an appointment for your high-performance vehicle.