What are the best tires for West Texas?
By: Discount Tire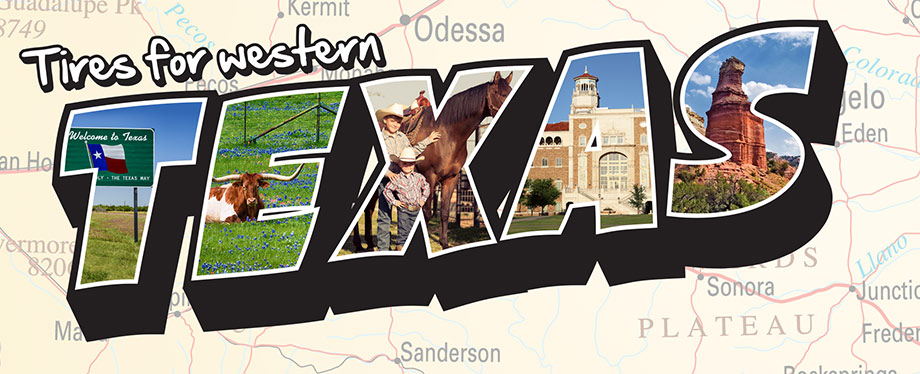 You don't need to be a mathematician to know that Texas = big. It's so big that we couldn't cover it in one post of our recommendations for tires. (Jump to the companion for East and Central Texas …)
Common vehicles: Full-size pickups are immensely popular; however, more than two thirds of the vehicles are cars or SUVs.
Major regions: El Paso, Lubbock, Amarillo, Abilene, Midland, Odessa
Road conditions: Streets can get icy and/or snowy in the dead of winter, but generally count on dry and arid conditions year-round, with some instances of extreme heat in the summer.
Discount Tire locations: 23 Discount Tire stores operate in West Texas out of more than 250 for the entire state (and even more planned)!
First Discount Tire location in West Texas: We opened several stores in Texas in 1982, including our first West Texas location in Lubbock.
---
While the eastern and central parts of Texas have the bigger cities, massive populations and complicated infrastructures, West Texas contains the romantic frontier history associated with America's Southwest and the start of the arid desert that stretches all the way to the Pacific.
Though similar, what's needed from your tires in the west of Texas can differ from what's needed in the east, most notably during winter. Of course, it's not as though you see snowfall like the folks in Wisconsin or Minnesota, but your safety is our number one priority. You can be ready with the right tires.
Let's dig into our picks for the best tires for your West Texas vehicle.
Best truck tires for west Texas
Pickup trucks are popular throughout the US, but maybe nowhere as much as in Texas, which accounts for 20% of the nation's truck sales. Even if you aren't a proud owner of an F-150 Texas Edition or Tundra 1794 Edition, you can outfit your truck with the best tires for your budget at Discount Tire. (Note: Texas' Toyota Tundra manufacturing plant sits on the site of a former cattle ranch that was established in 1794.)
One of our top Treadwell™ picks for most trucks in most regions is the Bridgestone Dueler LTH. For the price, this top-quality Discount Tire exclusive is hard to beat. It is an exceptionally comfortable all-season ride for your pickup, and it can handle the small amount of snow that falls in most of West Texas. On top of this, there is a 70,000-mile warranty on some sizes and speed ratings.
If you need to go off the road and into the desert frontier, the gold standard for all-terrain tires is the BFGoodrich All Terrain T/A KO2. Unpaved trails, wet roads and snow are no match for the KO2, with thousands of reviews to back up their superiority and the three-peak mountain snowflake to certify them for winter weather.
On the other hand, if off-roading is your goal and your budget is tight, the Nankang N889 Mudstar could do the trick. It is highly rated by customers and has a tread design that is ready for mud, rocks and the snow of a West Texas winter.
Best car tires for West Texas
West Texas roads see many makes and models of cars. To keep them all as safe as possible, we'll focus on all-season tires.
From Goodyear, we have the all-weather Goodyear Assurance WeatherReady. This tire has the technology to provide excellent traction as the tread wears throughout the life of the tire and can handle any road, even in winter. Plus, it has a 60,000-mile limited warranty, so you know it was built to last.
In the same category of all-weather, Michelin offers the Michelin CrossClimate +. As a year-round tire, it can handle all road conditions at any temperature. With up to a 50,000-mile warranty and three-peak mountain snowflake certification, you can truly count on this tire in all seasons.
Lastly, for budget-conscious drivers in West Texas, check out our exclusive all-season touring tire, the Arizonian Silver Edition III. With great customer reviews, a quiet ride and 55,000-mile warranty, you can rely on comfortable all-season driving.
West Texas relies on Discount Tire
With the exception of geography, West Texans truly have much in common with all the folks from around the "Lonestar State." They are bound by their staunch spirit of independence and unified by their love of pickup trucks, especially modified and personalized. (Did someone say, "custom rims"? We've got a huge wheel selection, too!)
No matter what you drive in West Texas or anywhere under the six flags, we've got the best selection of tires at unbeatable prices. Need more help deciding? Call or come in to your neighborhood Discount Tire store for the best match for your vehicle.