What are the best tires for Minnesota?
By: Discount Tire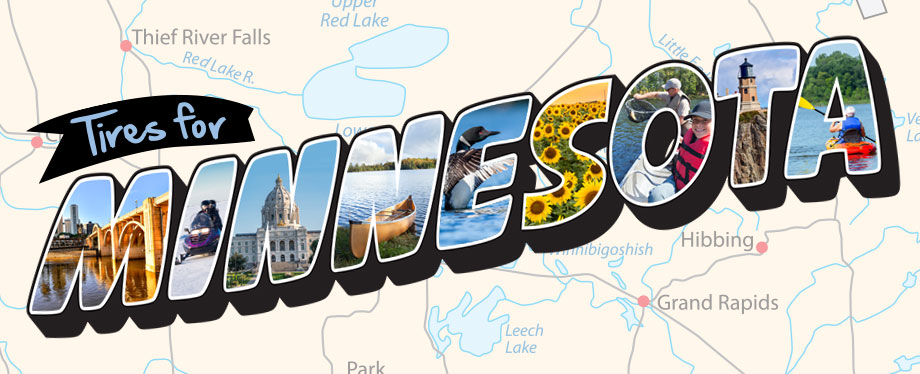 Major regions: Minneapolis, Saint Paul, Rochester, Duluth, Bloomington, Plymouth, Brooklyn Park, Saint Cloud, Eagan, Woodbury, Maple Grove, Minnetonka, Burnsville, Apple Valley, Blaine, Lakeville
Common vehicles: Pickup trucks, SUVs, crossovers, commuter cars and sedans
Road conditions: Blizzards, snow, ice, slush, rain, summer sunshine
Discount Tire locations: 28 (and counting!)
First Discount Tire location opening year: 2001

We know there's more to Minnesota than Prince,
Fargo
, The Mall of America and the Vikings. A lot more.
For example, its entire territory is 8.4% water (way more than most other states, thus the nickname "The Land of 10,000 Lakes."
People seem to really like living there as well, as (much like Discount Tire in Minnesota) it has grown in population every year since its statehood.
But you're here because you want to know what the best tires for Minnesota are.
From Minneapolis to the 'burbs, Lake Superior and the Canadian border on down to the Ohio state line, we can help you find the right tires for your commute, routine or adventure in Minnesota. And for as extreme as the weather in Minnesota can be, this is just one consideration to make when looking for your next set of tires in the North Star State.
But let's take care of the elephant in the room right away: one thing up front that you can count on when living in Minnesota is that you'll get snow (and probably a lot of it).
So do you need dedicated winter tires in Minnesota? Short answer: yes. We'll get into more detail further into this page, but it's not so much a matter of "if" than it is "when" (and what type).
BEST CAR TIRES FOR MINNESOTA
If you commute into and out of the greater Twin Cities area, you're probably after a tire that rides comfortably, makes you feel connected to the road, is reliable in rain and puts a priority on braking performance.
For the three seasons other than winter, your best option is going to be a dedicated
all-season
or
touring
tire, especially if you do a lot of freeway driving. If you live in Minnesota and drive a sports car or high-powered vehicle, consider a performance all season or summer tire—but be ready to switch to snow tires if you don't garage your fun vehicle for the winter.
But what if you don't have the money for dedicated winter tires and wheels right now? All-weather tires are becoming more and more popular, and are perfect for areas of Minnesota that see lighter snow. All-weather tires are also a great option for drivers of all-wheel drive vehicles who want the maximum amount of traction and convenience when Minnesota's famed winter weather sets in.
No matter what you drive, one of our local Minnesota locations will be able to get you outfitted with the perfect tire for your car.
BEST TRUCK TIRES FOR MINNESOTA
Truck and SUV tire options can be both more and less complex, but the same overall factors come in to play when trying to find the best option for you.
Minnesotans who drive a truck and are looking for the right all-terrain or LT (Light Truck) highway tire option should try to find something that's 3-Peak Mountain Snowflake-certified or M+S-designated (both meaning the tire in question exceeds the U.S. Tire Manufacturers Association's requirements for severe snow traction).
Perfect for off-roading, any truck tire with these manufacturing qualifications should capable enough in snow and on ice alongside your truck's 4-wheel drive.
WHEN TO PUT ON SNOW TIRES IN MINNESOTA?
No matter where or what you drive in Minnesota, winter tires are going to offer you, your family and your vehicle enhanced safety and performance over any other tire type come wintertime.
Packaging winter tires with a set of steel wheels can also truly be a difference-maker if you live in a part of the state that needs its roads and highways regularly salted or plowed. You won't need to worry about your regular wheels becoming damaged by road salt and chemicals, and both sets of tires will last substantially longer as you rotate them in and out with the change of season.
For those who don't want to chance anything happening to your OE or custom wheels, this is the best option of all. (There are also plenty of staggered high performance winter tire sizes as well, meaning you don't have to garage your sporty vehicle all winter if you don't want to.)
But if there's one thing that's true of winter driving in Minnesota, it's that the most expensive or highly-rated all-season tire is still no match for even the worst snow tire when temperatures drop below freezing.
If you live in Minnesota and are wondering when to switch to or buy winter tires, the answer is the first week temperatures are projected to dip below 45-degrees or there's a chance of overnight snow that'll stick, melt and then freeze.
Remember: the tire manufacturers only produce a limited number of winter tires per year, so we recommend beating the rush and scheduling your appointment for new tires or a winter changeover before the cold weather sets in.
From there, one of our 25-plus stores across Minnesota can help you find the best tires to suit your needs!